New G.I. Joe: Retaliation Trailer: Is The Rock Really 'Franchise Viagra?'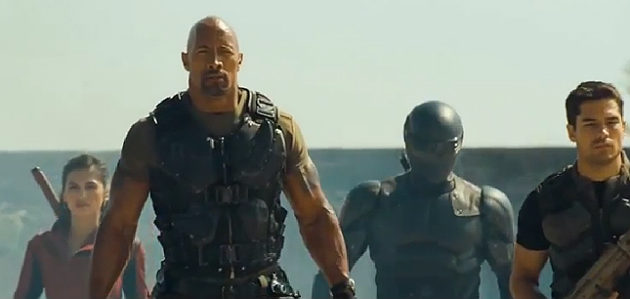 G.I. Joe: Retaliation director Jon M. Chu and star Dwayne Johnson popped up to unveil a new trailer for the exhibition pros Monday night at CinemaCon, where The Rock was dubbed the CinemaCon Action Star of the Decade and described with a nickname that's been floating around here and there for months: "Franchise Viagra." The new Rock-centric trailer for G.I. Joe: Retaliation seems to agree with that sentiment. So watch it below and discuss: Could Johnson's muscle-bound box office draw enhance just any limp franchise's potential?

Johnson earned the moniker by helping Fast Five to a box office bonanza last year, but he also notably made the Journey to the Center of the Earth sequel a hit (and let's not forget his film career beginnings, turning an appearance in the Mummy franchise into his own starring spin-off).
With Chu behind the camera ramping up the cool factor on G.I. Joe 2 — Bees that turn into bombers! Rappelling mountainside ninja fights! Bruce Willis! — this new trailer makes it known that the sequel is Johnson's film. His Roadblock is the solid wall of man meat who leads the Joes on a quest to clear their names and avenge their fallen brethren after Cobra Commander infiltrates the government and turns their own country against them. The whole "betrayed agent avenging comrades to clear their name" thing has been done to death recently (Salt, Haywire, The A-Team, The Losers, Mission Impossible: Ghost Protocol, ugh make it stop), but halfway through the trailer I realized that yes, I will watch just about anything The Rock is in. Especially if he's all bronzed and sweaty, which is just about always.
Verdict: G.I. Joe 2 was more enticing when it was all mountain ninjas and Channing Tatum and Bruce Willis in the back of that El Camino before all this silly plot reveal business, but on the other hand it has The Rock, and therefore I am in.