REVIEW: Not Even the 3-D is Original in Recycled Journey 2: The Mysterious Island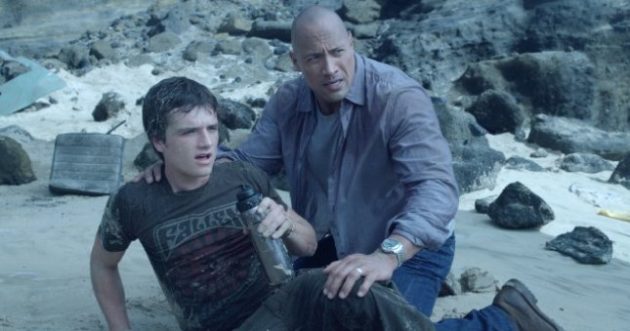 If it takes you a beat to remember the movie to which Journey 2 is a follow-up, that may not just be because the makers have opted for a trimmer title than, say, the marquee-busting, geographically confusing Journey to the Center of the Earth: The Mysterious Island.

The 2008 Journey to the Center of the Earth was solid if unexceptional summer box-office fodder starring Brendan Fraser as a scientist who adventured through a Jules Verne-documented fabulous world hidden under the earth's crust, accompanied by his young nephew Sean (Josh Hutcherson) and their dishy Icelandic guide (Anita Briem). This new film, directed by Brad Peyton (of, yes, Cats & Dogs: The Revenge of Kitty Galore) has dropped Fraser to instead follow the less-familiar and less-charismatic Hutcherson as the series through-line. Sean's grown to surly teenagerdom and has been reluctantly relocated to Dayton with his mom (Kristin Davis) and new stepdad Hank (Dwayne Johnson), who has to learn how to fill in as the boy's latest father figure.
I'm maybe unreasonably fond of the actor formerly known as The Rock, and his willingness to stride fearlessly and unabashedly into sequels like this despite having played no part in the earlier installments (see also Fast Five and the upcoming G.I. Joe: Retaliation) is curiously endearing -- he's the poor man's everyone, game to replace any star around whom a franchise was previously built. And he's not a bad substitute for Fraser, sharing the same cartoon-caricature handsomeness and willingness to combine brawny bits of action with goofball silliness, an apparent must for the family action adventure. But Johnson's disarming commitment to the doodle of a character he's playing isn't enough to inject life into the rest of the film, which is an anemic retread of beats and elements from its predecessor, taking place on a secret island hidden beneath a constant storm in the South Pacific rather than in an underground realm hidden inside an extinct volcano in the North Atlantic. 
Instead of continuing the story, Journey 2 just blatantly recycles it. In the role of competent local/love interest this time around is Vanessa Hudgens as Kailani, on whom Sean immediately develops a crush, and who's accompanied by her father Luis Guzmán, strenuously working at being the comic relief. In the place of dinosaurs there's a giant lizard. Instead of a roller coaster-style mine cart ride there's a roller coaster-style chase in which everyone rides massive bees. In the first film, the characters had 48 hours to escape deadly rising temperatures, while in this film they have a little less than that to get away before the island sinks into the ocean.
You can argue that there's no need to mess with a formula that worked, especially given how young the intended audience for this film is, but the one thing Journey 2 can't recreate is the novelty that still clung to 3-D in 2008. Journey to the Center of the Earth was advertised as "the first live-action digital 3-D movie ever," and much of its charm lay in the nostalgically corny pleasure it took in the technology, the sense of wonder it demonstrated for making things appear to fly out of the screen, even if that meant having someone rinse their mouth and spit the water out at the audience. In the four years since, our love affair with 3-D has hit some rough patches, and while Journey 2 has moments of multi-dimensional inventiveness, like a trick of perspective involving sea life swimming by close to camera, or an erupting mountain framed by a window serving as a character's TV, it doesn't offer much in terms of memorable spectacle. In fact, the film's effects can look surprisingly outdated given they're the primary selling point, from the hazy fantasy landscapes to a submarine-escape sequence that resembles a video game cutscene.
This franchise is based on the idea that everything Verne wrote about not invented but real -- the Vernians, of which Sean's late dad could be counted, seeks out the locations the author described in his books. But the films are actually focused on missing and surrogate father figures, with family members rushing off to explore and go missing rather than stay with their children and be there for them when needed. Michael Caine, cruising along, turns up as Sean's flaky Vernian grandfather, Alexander, the man who lured the party out to the island in the first place. When the action slows down enough for characters to have a conversation, which is thankfully not often, Alexander and Hank bicker over and compete for Sean's attention and admiration like dueling swains. Will Sean come around to his new stepfather, and will Alexander realize that being reliable is just as important as being exciting? Of course -- this is a family movie, after all -- but you'll have to sit through some abrasively broad, unfunny exchanges to get there. Dialogue, alas, is the kind of thing that can't be enhanced by the wearing of 3-D glasses.
Follow Alison Willmore on Twitter.
Follow Movieline on Twitter.