From Deer Hunter to Bridesmaids 2: Judd Apatow and Robert De Niro Toast Universal at Tribeca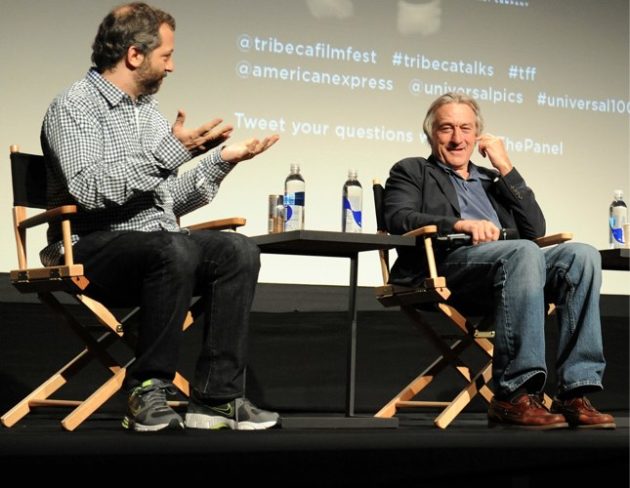 The first full day of Tribeca 2012 yielded at least one major highlight, as festival co-founder Robert De Niro and comedy mogul Judd Apatow joined Deadline's Mike Fleming for a discussion commemorating the 100th anniversary of Universal Pictures. (Fellow Universal blockbustress Meryl Streep, alas, backed out at the last minute due to illness.) At least, that was the plan; what ensued was a wide-ranging, freewheeling chat about the pair's work for the studio, the natures of their comedy, varying sequel statuses, and much more. As per Tribeca custom, read on for this years revelations from from De Niro and Co.

Without De Niro's Cape Fear remake, Apatow might not be who he is today
"One of first important milestones of my career was [when] I created The Ben Stiller Show with Ben," Apatow said. "And the sketch that got us picked up was the Cape Fear parody. Have you ever seen that?"
"No, I didn't know that," De Niro said dryly.
"Do you have a lot of friends who want to show you parodies of you, or are they afraid to?" Apatow asked.
"Sometimes," De Niro replied.
"So we studied that movie shot-for-shot, and then Ben was dressed up like Eddie Munster," Apatow explained. "Cape Munster. That's how we got the how picked up." The filmmaker gestured back to the screen, invoking the epic Universal clip reel that opened the event. "The rest I didn't care for."
De Niro didn't like The Deer Hunter's poster
And according to him, there's even a better design somewhere out there. "I was given the script by Michael Cimino, and I liked it very much," De Niro recounted of his first experience on a Universal film. "I even liked the way it was presented. The cover of the script read 'The Deer Hunter,' and it was a character against a white Cadillac with a deer strapped on to the hood, and he had a shotgun hung over his arm. And I felt it would have been great for the actual poster of the movie instead of the more complicated kind of poster that I didn't think worked very well."
(Apatow later chimed in: "When The Deer Hunter came out, I was 10 years old. We had the VHS of it, I watched it, and that's how I became this.")
Neither Apatow nor Universal are about to apologize for Funny People
Fleming asked Apatow about the tonal change of pace — and commercial downshift of fortune — that the director experienced with his 2009 film. "I think it's important for people to make movies that are deeply personal," Apatow said. "I think you have to be willing to push it, and when you do things that are intimate, there are some people who are like, 'I was at work all day today, and I don't give a shit what you're upset about in your life.' And there are the people who really want to feel other emotions than just pain or watching the bad guy get beaten. So you're always going into more difficult territory when the move isn't about making you happy, but it's about why comedians are in pain — much like..." Apatow turned to De Niro and paused for dramatic effect. "The King of Comedy. I'm bringing you into it!"
Fleming followed up by asking Apatow what the conversations with Universal were like as the film came together as the challenging piece it was. "In all honesty," Apatow said, "they loved the movie and were supportive through the entire creative process and when it came out. It's been an amazing experience for me working with them. They want me to grow and get better at what I do, and part of that is for me to take risks and try new things. And it was never weird. I've had weird. I've been on planes coming back from the test screening of The Cable Guy. I know what it's like when people are like, 'Oh my God. What are we going to do?' I'm like, 'It's great, isn't it?'"
The Bridesmaids sequel is still in limbo
"You know, I don't know," Apatow said when asked about the status of a follow-up to last year's Oscar-nominated blockbuster, which he produced. "It took five years to make it; I think there's some exhaustion from having made it. I think down the line we'll see if people are reinvigorated to want do it or not. I would like to see a sequel to..." Again, Apatow faced De Niro and hesitated. "The Deer Hunter."
The Midnight Run sequel may be writing around Charles Grodin
The development of the recently announced Midnight Run 2 was thought to hinge heavily on the participation of Grodin, who brilliantly played De Niro's foil in the 1987 comedy classic. But to hear De Niro tell it, the writers might have an answer for that. "Somebody had approached me — a young writer — and he had said how much he liked it. And he said, 'What about writing a sequel if you want?' I said, 'Fine, sure.' So it's been going through these kind of changes. [... De iro's character Jack Walsh] is helping the son of Charles Grodin. He's gotten himself in trouble. That's where we are. The script is being reworked again. But I hope to do it. It was a lot of fun to do."
De Niro always had a feeling he could do comedy
Asked about how he transitioned to comic roles from his celebrated dramatic roles of the '70s, De Niro cited those very same roles as his comedic inspiration. "You know, Taxi Driver had a few funny things in it. Mean Streets, King of Comedy... They weren't obvious 'comedies,' but they were funny. The comedy was out of situations, the irony or whatever."
"Goodfellas is hilarious!" Apatow half-joked. "I saw it in the movie theater and it just rocked the house!"
"Joe Pesci's scene with Ray Liotta is a hysterical scene, yeah," De Niro said. "Analyze This came from Billy Crystal, who had the idea. Billy had a script and thought it'd be fun if I did that. And somebody tod me about it but said they didn't know. I said, 'No, it sounds interesting. Let me see. Let's get together and talk about it. And then we had a reading of it and so on, and figured it out. [...] But I never had a problem thinking I could be funny — especially that kind of character, since he's bigger than life anyway."
Apatow is all for seeing movies on your phone
Surprised? Don't be: "Anything that allows me to watch a film while going to the bathroom is awesome."
De Niro isn't totally averse to Raging Bull 2
"I don't know about it," he said to a laugh from the crowd. "I mean... Maybe if it's a great, great script? Have you read it?"
"It's great," Fleming said.
"Oh," De Niro replied, tongue mostly in cheek. "Then I'd consider it. Sure."
Apatow's only acting experience is a... Jack in the Box commercial
Asked if he would consider starring in a film, Apatow didn't hesitate. "I am a bad actor," he said. "I learned that in a Jack in the Box commercial when I was 20. I was reading the lines, which were about how good the burger was, and I kept pointing to it. I couldn't stop pointing. And the director of the commercial taped my hands to my legs, and I never acted again."
"But he did hire you?" De Niro asked.
"Yes, I got work from here up," Apatow said, waving his hand above his neck.
"Well, that'll give you something," De Niro said.
"If I was in it for his own amusement, it would have been like a scene from Fame." Pronto! Someone get it on YouTube!
Read all of Movieline's Tribeca 2012 coverage here.
Follow S.T. VanAirsdale on Twitter.
Follow Movieline on Twitter.