Brett Ratner Would Direct Midnight Run Sequel That Will Probably Never Happen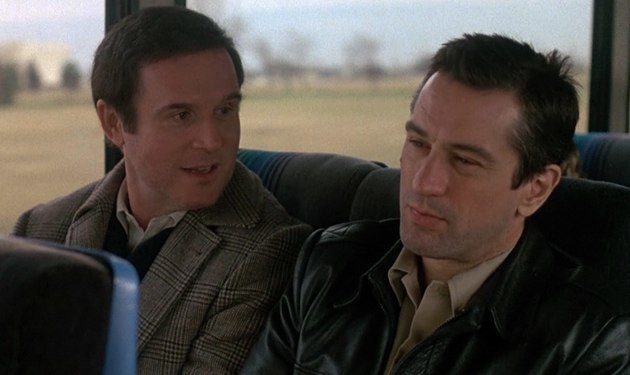 There's no script, no budget and no confirmed Charles Grodin to complement the "buddy" part of the "buddy comedy" formula that worked so well 24 years ago, but that's not stopping the zeitgeist from panicking over the current state of Midnight Run 2. To wit, Brett Ratner is now linked up as the director. Like we've never heard that before. Everybody calm down!

Not that it doesn't get somewhat worse, as Mike Fleming reports at Deadline:
The studio and [De Niro's production company] Tribeca put the wheels in motion on the sequel early last year, when they hired Tim Dowling to write a draft. [David] Elliot & [Paul] Lovett, who were writers on G.I. Joe: The Rise of Cobra, and are working on the sequel to Four Brothers (which they also scripted) will continue the storyline of Walsh, the ex-Chicago cop who, when last seen, set free the turncoat mob accountant The Duke at LAX and walked away with a wad of cash he'd use to open a coffee shop.
So, yeah: Still early. Anyway, to recap, De Niro played bounty hunter Walsh and Grodin played Jonathan "The Duke" Mardukas in the 1988 film, which was written with such profane, caustic fervor by George Gallo and directed by Martin Brest in his follow-up to Beverly Hills Cop. All of which raises a few questions: Would the retired Grodin reprise his role? (He's said he's open to it, but he's also 77 next month and doesn't exactly need the paycheck.) What is it with Ratner wanting sequels to Brest classics? (If it's not Beverly Hills Cop 4, then it's Midnight Run 2. Just give him Son of Gigli already and let's be done with it!) And can Elliot and Lovett find a place for Yaphet Kotto to return as well? Because there is no Midnight Run 2 without perpetually vexed FBI agent Alonso Mosley delivering some serious comeuppance.
[Deadline]
Follow S.T. VanAirsdale on Twitter.
Follow Movieline on Twitter.