Avengers Assemble in Photoshop -- Er, New Poster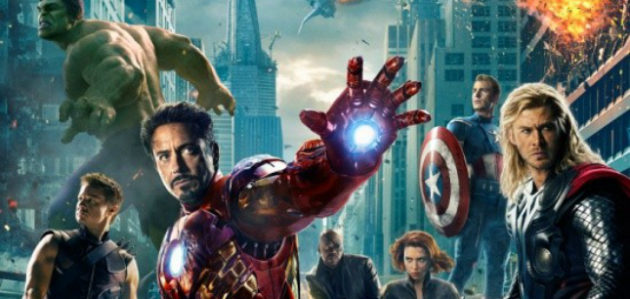 On the eve of a new trailer debut, Marvel has released a new poster for May's superhero superteam pic The Avengers. Here you'll find all your favorite heroes gathered in various states of action and repose: There's Black Widow (Scarlett Johansson) stalking her prey while Hawkeye (Jeremy Renner) contemplates a sandwich, with Captain America (Chris Evans) having a senior moment in the background as Iron Man (Robert Downey Jr.) hogs the spotlight. Typical. Get a full look at the cut & paste wonderment after the jump.

Also wedged into the same blue-tinged, explosion-filled background by Marvel's resident Photoshop intern: Mark Ruffalo's Hulk flailing for a way out (of this poster), Chris Hemsworth's Thor pouting through a bad hair day, and Sam Jackson as Nick Fury looking like he belongs in an altogether different movie. Say, a serial killer cop crime thriller about a one-eyed detective who does things his own way? Starring Ashley Judd, perhaps?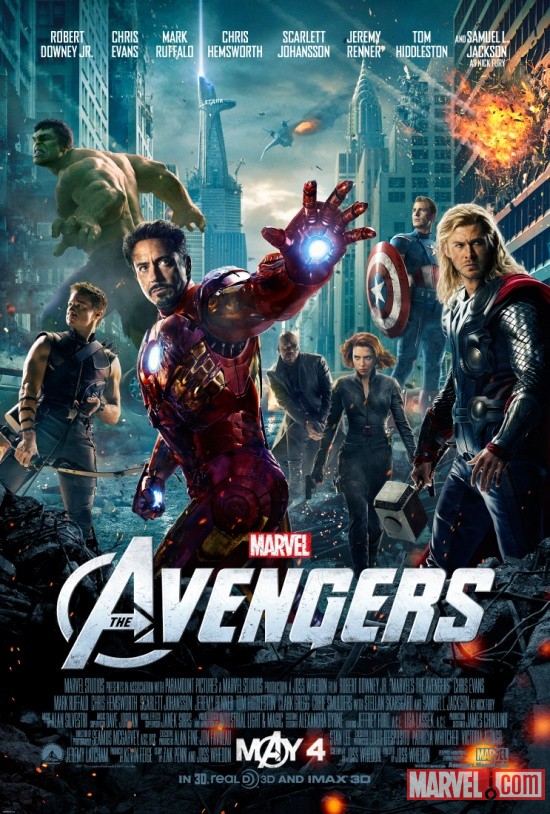 Meanwhile, over in the U.K. the film's title has undergone a revamping; it will henceforth be known across the pond as Avengers Assemble, ostensibly to avoid confusion with the 1960s British spy series, and probably the subsequent Uma Thurman-starring feature-length bomb that followed in 1998.
Marvel Studios presents in association with Paramount Pictures "Marvel's The Avengers"--the super hero team up of a lifetime, featuring iconic Marvel super heroes Iron Man, the Incredible Hulk, Thor, Captain America, Hawkeye and Black Widow. When an unexpected enemy emerges that threatens global safety and security, Nick Fury, Director of the international peacekeeping agency known as S.H.I.E.L.D., finds himself in need of a team to pull the world back from the brink of disaster. Spanning the globe, a daring recruitment effort begins.

Starring Robert Downey, Jr., Chris Evans, Mark Ruffalo, Chris Hemsworth, Scarlett Johansson, Jeremy Renner and Samuel L. Jackson, and directed by Joss Whedon from a screenplay by Joss Whedon, "Marvel's The Avengers" is based on the ever-popular Marvel comic book series "The Avengers," first published in 1963 and a comics institution ever since. Prepare yourself for an exciting event movie, packed with action and spectacular special effects, when "Marvel's The Avengers" assemble in summer 2012.
The Avengers is in theaters on May 4.