Movieline Liveblogs the 2012 Academy Awards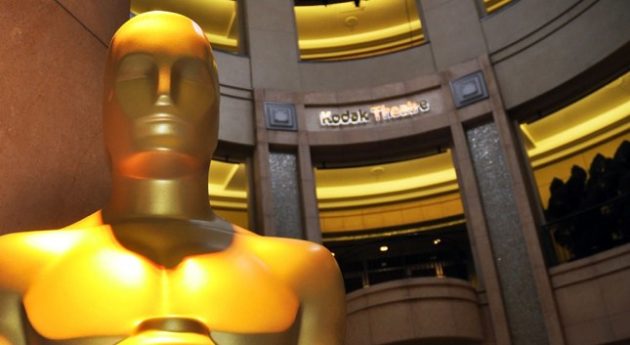 Hollywood's biggest (and possibly most anticlimactic) night is upon us, which can only mean one thing: Movieline's third annual Oscar Liveblog Extravaganza! Join your Movieline editors and loyal readers as we parse the Academy Awards to within an inch of their glamorous lives. The fun begins on the red carpet at 7 p.m. ET/4 p.m. PT, with the Oscarcast proper commencing at 8:30 p.m ET/5:30 p.m. PT. And in any case, keep abreast of this year's Oscar class with our commentary after the jump.

[ADVISORY 8 p.m. ET: The CoverItLive/Twitter interface is buggy for the time being; we're working on a solution! Thanks for your patience!]
[ADVISORY 8:20 p.m. ET: Many apologies to readers who had been checking out the livetweet module; technical difficulties on the Twitter interface made it impossible to continue. Please chime in with us in the comments!]
11:38 Well, thanks for playing along, and sorry for the technical difficulties. But enough about Harvey Weinstein's high-five abilities! That is all. More Monday on Movieline. Go drinking! What are you still doing here?
11:35 And Tom Cruise announces The Artist as Best Picture winner. And give Uggie the Oscar!
11:33 Some really great plastic surgery in the last 3 minutes.
11:30 Meryl Streep wins Best Actress! Great?
11:26 "Rooney, you have no experience. Congrats, get the fuck out of here."
11:24 Best Actress! Colin Firth is so eloquent. "Glenn! You are so Nobbsie. Hallo, Nobbsie! Well done, Glenn. You did Nobbsie. Nobbsie!"
11:20 VIOLIN LADY!
11:18 Congrats to Jean Dujardin! You'll never work in this town again.
11:14 I have nothing left. Demian, George, Jean... what a way to introduce yourself to PUUUUUKE
11:08 Thank you to the Academy for elevating George Kuchar to roughly 10 dead-industry-people places below Elizabeth Taylor.
11:03 I DIED
10:58: VIOLIN LADY!
10:52 Best Director: Michel Hazanavicius. Obviously.
10:48 Oscar date: "Where is our dead people montage? Where is our dead people montage?" Yeah, kinda.
10:45 Yayyyyy, photo-bombers Brandon Oldenburg and William Joyce take Best Animated Short. Congrats. Cocktail/smoke/heroin/sleep break... BRB.
10:42 Short winners: The Shore (dramatic) and Saving Face (documentary). Y'all are totally fucking up my Oscar pool.
10:39 Kristin Wiig, film size queen. May I suggest Margaret?
10:33 Adam Sandler wants to get to the truth. By the time he's 85. He might get there.
10:30 Woody Allen wins Best Original Screenplay. Let's get to what affects Reese Witherspoon about Overboard.
10:26 Best Adapted Screenplay: Alexander Payne, Nat Faxon and Jim Rash win it for The Descendants. Payne, insufferably, to his mother: "If I ever won another Oscar, I had to dedicate it to you." Well, then.
10:18 Should I be saying something about these suits? The cymbals? Or that 1/2 of Flight of the Conchords just won an Oscar? Yes, that.
10:13 Ludovic Bource! Way to rape the Oscars!
10:10 Uggie was on the Oscars. We did it.
10:04 VIOLIN LADY!
10:01 For Beginners, Christopher Plummer becomes the oldest actor ever to win an Oscar. Take it away, kid.
9:58 Melissa Leo, who are you wearing? "Penney's" Oh.
9:56 Michael Bay and Roland Emmerich in the same Oscarcast? What did we do to deserve this? Oh, by the way, Hugo just won Best Visual Effects.
9:54 Emma Stone single-handedly saved at least the last half-hour of the Oscars. Thanks you, Emma!
9:47 Gore Verbinski is an Academy Award-winner. That is all.
9:45 Check out Movieline's Best Documentary Feature roundtable here.
9:42 Robert Downey and Gwyneth Paltrow "introduce" Best Documentary Feature: Undefeated. Um, wow. Shocking upset over Paradise Lost 3: Purgatory.
9:40 The Oscars just jumped the circus elephant.
9:37 Thank you Miss Piggy and Kermit! Here's my take on "What it Means to Go to the Bathroom."
9:29 If the idea is that you power through the bullshit and montages and give the winners time to speak, then I am allllll for that. Oh, wait — Cirque Du Soleil coming up next. Never mind!
9:26 Hugo wins Best Sound Editing and Best Sound Mixing. My drinking games can't keep up with this pace! Slow down, Tina Fey!
9:24 Yay! Kirk Baxter and Angus Wall win Best Editing for The Girl With the Dragon Tattoo and have nothing to say. Nicely done, gentlemen.
9:22 The cults of the Oscars and Christopher Guest just died before my eyes.
9:17 Via @jenyamato at @movieline: "Is it too much to hope that one day the Oscars will get Keyboard Cat to play off the long-winded acceptance speeches?" AMEN, SISTER.
9:15 VIOLIN LADY!
9:14 Octavia Spencer wins Best Supporting Actress! Roll Tide!
9:10 Incidentally, what does Otis the Oscar Cat think this year's awards so far? Ahem.
9:07 A Separation wins Best Foreign-Language Feature! Way to go, Iran! Imagine what you'll do with nuclear weapons!
9:06 Loving Sandra Bullock right now. I needed Chinese by way of German, seriously.
9:01 Lovely film-fan montage. "I remember saying, 'Can I please do that?'" No, Adam Sandler, you cannot.
9:00 OK, so the theme is to go to the movies.
8:58 "Ldkjhafdslkjfhakljdhfsalkjhdadjk!!!" Couldn't have said it any better, Cameron and J-Lo! Oh, and The Iron Lady won Best Make-Up.
8:57 Another minute passed! This calls for the next shot.
8:56 Mark Bridges and The Artist win Best Costume Design. And first Harvey Weinstein mention! This calls for a shot.
8:54 Roland Emmerich was on the Oscars. Now I can die. #ConsiderEmmerich
8:52 We were off to such a nice, fast start! And now... this clip reel? "That's when movies were actually made on film." YOUR BEST CINEMATOGRAPHER SHOT DIGITAL, ASSHOLE.
8:46 Nice to see Donatella Versace make Italy 2-for 2. Is it a Hugo night?
8:44 Robert Richardson! Huge upset! I think? I'm drunk. Second 3-D winner in three years, though — not bad. Check out his Movieline chatwith Jeff Cronenweth here.
8:43 Big night for you, Carl!
8:41 Did I miss the Extremely Loud and Incredibly Close part of that song? Or was just the part where Crystal bombed?
8:39 Marty Scorsese's daughter knows how pathetically weak this is. So much for the younger demographic!
8:37 How did we ever overlook the "Chapter 11 Theater"?
8:35 I have no idea what is going on with this intro. Bourbon, please.
8:25 I feel like I've lived and/or worked a lifetime in the last 90 minutes. Only six hours to go!