Filmmaker J.C. Chandor on His 15-Year Journey to Make Margin Call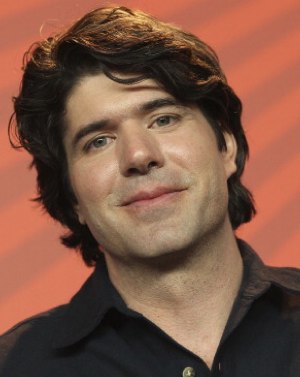 Writer-director J.C. Chandor isn't traditional Verge material -- a 15-year veteran of commercials, documentaries and short films whose dramatic feature debut, Margin Call features a eye-popping ensemble cast of Oscar winners (Kevin Spacey, Jeremy Irons), seasoned pros (Stanley Tucci, Demi Moore, Paul Bettany, Simon Baker) and next-generation standouts (Zachary Quinto, Penn Badgley) taking on the tale of a New York City investment bank flirting with oblivion at the dawn of the ongoing financial crisis. And thanks to both the cast and his own formidable chops, Chandor pulls it off with impressive aplomb.
Chandor sat down with Movieline today to go over his long, long road to feature filmmaking, how and where to write a first draft in four days, and feeling comfortable leveling with legends on the set.
So this is your first feature, but you're not a rookie by any means, right?
No, I have been a commercial director and a documentary producer and anything else anyone could hire me to do for 15 years. Since before college. I've been trying to do this for 15 years. It's been a personal dream come true in a major, major way, and to have it all come together the way it did is kind of more than you can imagine. I had a film almost five and a half years ago fall apart like five days before principal photography that I had been working on for like seven years.
Oh my God.
The financier walked. It was just a horrible experience. I didn't ever leave the documentary projects, but I left the commercial world and left the independent world. My daughter was about five months old at the time, and I'd put my family at financial risk because I'd basically taken off six months of any kind of commercial work to try to produce that. I went out to see if there was something else in the world I could do, and this writing is kind of what drew me back. I just had the idea bouncing around.
When did this idea come to you?
It was in late '06/beginning of '07. I began to see a bunch of things happen. I'd gotten into real estate; I love old industrial buildings, and so some partners and I had bought a little building in Tribeca with a little bit of our money and a lot of other money. And that was at a time when everyone was trying to get rich with real estate. We got in over our heads on this big renovation project, and the architect on the project -- who was one of our partners, and a friend of mine -- his godfather is a very senior banker at a very senior investment bank before starting his own thing. He came to us in '06/'07 -- in the middle of our renovation, when we were getting offers to buy the building. New York real estate was still [strong], and we were saying, "No way! This is our project." And he came to us and basically said, "Take them."
At first we didn't quite know what his motives were, but then he told us about how he was walking away from deals where he was leaving millions of dollars of deposits on the table. And one of our partners who had given us money turned out to be a total pain in the butt. So considering that -- combined with what we were told -- we sold the building. A year and a half later, the financial world literally comes to an end. And I started thinking back to what it was like. What did he know? What was he literally seeing that made him say something? My partner was an architect, and this was a lifetime dream of his. He affected his godson's life in this very severe way: "Abandon your project. Get out." I thought, "What does it feel like to walk around with that information, and when do you decide to actually start acting on it? Who do you act on it with? What if you're wrong?"
Then the investment banks failed, and my father had worked in that world for 35 years. So I knew a lot about those characters -- not from a technical standpoint, but from an emotional standpoint. Why they make the decisions they do. Why do some people take the jobs they do? Why do people quit when they quit? Why do people get fired when they get fired? All of those things, I did have a very deep, deep understanding of, just from my own life. So I knew the vice of the characters, and I tried to combine the two.
And going back to your other question, I have a long, long history of production. I wrote this to direct it. I thought, "How do you tell this incredibly complicated story for under a million bucks?" That's where I started, and that's where I came up with the idea of trapping them on one floor of a building. I knew I could shoot that very quickly and would probably have a better chance of getting prominent actors. All these knowledge bases came together, and this script came out of me in like four days.
Four days?
Yeah. I went back, obviously, but there was an 81-page draft that I wrote between job interviews. I was in Boulder, Colorado, for a job, and the Monday interview went well, and they asked me to stay until Friday, when the CEO was coming back. I thought, "I could sit here for four days and get drunk or hike in the mountains or do whatever the hell else anyone does in Boulder, Colorardo, or actually do this thing that's been in my head for a year and a half."
It says "Based on a true story" on the poster. Obviously the crash is pretty real, and you know people like these characters. But is there a specific "true story" you're telling here?
To specify it that way is a marketing situation -- though it's certainly inspired by a true story of what's going on. But I tried to strip away all identifying factors. There are no dates. There are very few times; the time of the day is laid out, but we don't really know. I always found it sort of interesting that, by the actual content in the movie, this could have taken place in 2006, or 2004, even. People were calling the end for many years. Part of what I find so interesting is that what got a lot of these CEOs in trouble from a risk-taking standpoint is that they saw their [counterparts] at other companies get laid off for not taking enough risk -- for calling in 2005, "It's time to pump the brakes, boys." And there were still two more years of making billion-dollar profits. There was this fear of being the first person off the train, so to speak, which in the end led the train over the fucking cliff.
But for me, this firm is still in business. This is not a Lehman Brothers situation. This action helped avert bankruptcy, and that's really interesting to me -- that these people are still out there doing their thing.
Pages: 1 2