Filmmaker J.C. Chandor on His 15-Year Journey to Make Margin Call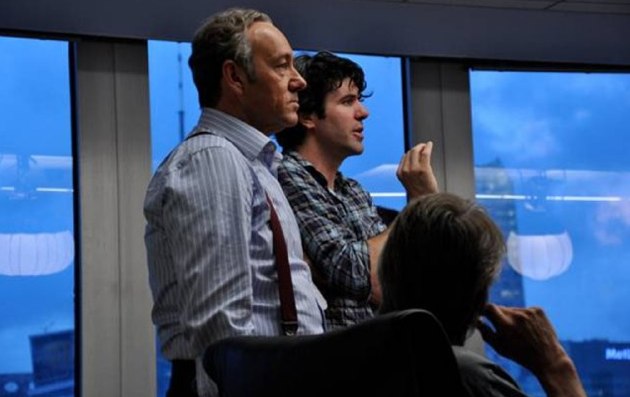 When you have a cast like this on your first feature, how much of your job becomes just giving them the script and getting out of the way? How hands-on are you with guys like Kevin Spacey or Jeremy Irons?
The interesting thing is that I had a tremendous leg-up in the command of the material. Some of them needed to be brought up to speed. So when you think of a lot of the ego battles that often happen in an actor-director relationship, I sort of had a bit of a leg-up immediately because I wrote it. That's a major element. As a writer-director, the actors do give you a level of respect right off the bat knowing that this is my film, essentially. It's not like I'm bringing it from some other source.
But you'd have to be an idiot, in my position, to not watch them do three or four takes and see what happens. Obviously, you see what Kevin Spacey's going to do for you! [Laughs] I guess the juicy part of the answer to the question is that at times it wasn't going where I [wanted]. I knew the movie I wanted to make; we weren't experimenting or anything. It's a procedural film. One thing is absolutely required to build one thing on another. The film kind of runs like that. There were really intense times. It's a life's worth of work. You have to go up to Jeremy Irons and be like, "Totally off the mark here, dude. This is not where we needed you to be." It was an amazing experience in my life. Once you kind of go there with them, and you know what you're talking about, they are professionals, and they respect that, and it began these relationships that I'll remember for the rest of my life.
And of course Irons's role as the CEO is the only unambiguously bad guy in the movie. The tone is supposed to be pitched, right?
What we always wanted to relate is that this is what he's hired to do. The interesting thing in that board-room scene with him and Spacey -- well, all of the scenes, really -- Spacey is wrong, and Irons is right. That doesn't mean he was right two and a half years ago, when he was saying, "Let's step on the gas! Keep going!" He was obviously wrong. But at this particular moment, Kevin Spacey's character is totally off the mark. Don't tell poor Kevin that, because we wanted him to believe his character is right. But in the end, if they had kept these on their books, it would have put the company out of business. And these aren't grandmothers in Wichita they're selling this stuff to. It's other educated buyers. These are institutions trading with each other -- which I did on purpose.
Certainly there were other cases where things are more questionable morally. But this is on that borderline, where what you're doing is putting other businesses out of business. Not to say that's any better. But Irons's character, by the rules of capitalism, is entirely within the right. He has a piece of information before anybody else does that could threaten his company, and he chooses to take action on it. On paper he's the most evil guy there. But he's making the decision that you, as a shareholder, have hired him to make. That's why he's there.
Yet you could still tell how much he relished nailing that guy to the wall.
Right. And I also came into it with this insane confidence that I'd been waiting 15 years for this opportunity. This is making a little bit light of the situation, but essentially, I walked on to that set saying, "Who gives a crap if this is Kevin Spacey? He is an amazing lump of clay who is probably going to give me a greater performance than anyone else I could have cast in that role, but I'm here to make the movie I know I want to make." Probably, had I gotten this opportunity 10 years earlier, I wouldn't have been able to do that. I was a pretty immature guy at 26. But I knew the movie I wanted to make, and I was given the gift of these actors, and they were all there for the right reason. They weren't making a ton of money. It was a movie they wanted to make.
I don't think I'll ever have an experience like that again, obviously. Some of those board-room scenes, where you have all of those people in one room... It was more when I'd walk out, back to the video village, and I'd be like, "Did I just walk out of that board room with all of those actors that are saying my words?" [Laughs] After all the time I'd been waiting, it was a pretty intense dream come true.
So what is the next experience you're hoping to have? What's in development for you?
I don't know. [Shouting across room] Neal, has the money come in yet?
Margin Call co-producer Neal Dodson: We're working on it!
Chandor: I wrote something, and it is cast, and we are hopefully going into production in the next month or two here.
But there are no details?
[Dodson shakes his head.]
Chandor: Not yet. We need the money to hit a bank account.
Dodson: But feel free to say, "Someone should write these guys a blank check!"
Chandor: [Laughs] It's a very challenging, very different, crazy, not topical, very little dialogue, fun piece. It's very different from a directing standpoint. But I had this amazing opportunity; I've been waiting all this time, and this film's been very well received. We made our investors' money back, plus a hefty return. So all joking aside about not having the money, there are people now interested in us -- coming to us -- to make a movie, potentially. We're trying to find the right fit. It's a very challenging process to finance, but could be really fun to make.
Margin Call opens Friday in limited release. Read Stephanie Zacharek's review from the 2011 Berlin Film Festival here.
[Top photo: Getty Images]
Pages: 1 2