John Carpenter on His Decade Away from Filmmaking, the Problem With Today's Horror, and The Ward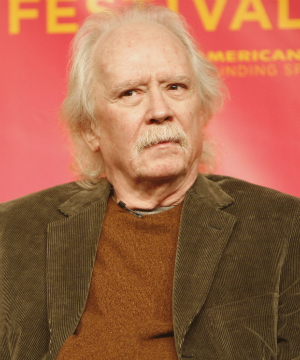 Ten years ago, after completing his 20th film in 27 years, filmmaking legend John Carpenter took a sabbatical from filmmaking. "I was tired," he explained to Movieline, pointing to a decades-long career spent filming one project after the next, including genre classics like Halloween, The Thing, Big Trouble in Little China, and They Live. "I had given up my personal life and given up my health -- given up a lot of things, because of my love of movies, and I'd stopped loving cinema."
Thankfully, after much needed rejuvenation (and a 2005 stint directing an episode of Showtime's Masters of Horror series, which reinvigorated his filmmaking yen), Carpenter decided to return to features with a small-scale psychological horror tale. That film, entitled The Ward (on VOD now and in theaters July 8), follows a young amnesiac (Amber Heard) committed to a mental institution in the 1960s who begins to suspect that she and her fellow patients (Lyndsey Fonseca, Mamie Gummer, Danielle Panabaker, and Laura-Leigh) are being haunted.
Movieline sat down in Los Angeles for a frank and convivial chat with the 63-year-old Carpenter, who chain-smoked between stories and laughs about his return to filmmaking, the stress of making big budget films versus indies like The Ward, the community of horror legends and up-and-comers known collectively as the Masters of Horror (including Carpenter's old friend David Cronenberg, who now "considers himself an artist"), his open attitude toward people remaking his movies, and the upcoming horror Western he's scripting based on a 19th century family of bloodthirsty serial killers known as the Bloody Benders.
First off, even though it isn't one of your originals as composer, I really liked The Ward's score -- tinkly, haunting, childlike. I've been humming it ever since.
Wasn't he good? Mark Kilian, a South African guy.
How did you find him?
He was one of a number of composers that I listened to, and he just had something. A unique sound. Boy, he's talented -- and collaborative.
How much did you work together on that score? What kinds of notes did you send him?
Oh, you know... in the main titles when the girl is singing, bring it lower. Tiny little things.
At times it was reminiscent of a giallo score, even.
Like Claudio Simonetti, who I just met! And I met the beautiful Asia [Argento]. Asia comes in with that Eli Roth. I don't know about that guy. The guy's got all this Hollywood hair, slicked back. Just grinning. Beautiful girl on his arm. [Laughs] She's very sweet. Her dad is a close friend of mine.
Are you pretty close knit, all of you Masters of Horror?
Some of us are very close. Some of us are real fast friends. Dario [Argento] is probably my best friend. But he and I go back a ways. George Romero is a very close friends. Tobe Hooper I've known for years. We just sit and insult each other, tell jokes about each other.
Do you guys ever consult creatively with one another?
No. We don't need to talk about that. We talk about girls!
I always wondered what goes on at those Masters of Horror dinners...
It's at the Hamburger Hamlet, and we have these strange visitors -- people who aren't horror but want to be. Oh, it's fun though. Now, David Cronenberg used to be horror, but now he considers himself an artist, so he's a little bit above us, which was shocking to me. Because David and I used to be friends in the old days, and now, I don't know. I'm a little low class for him. It's really weird. So I quickly made an exit. "I don't want to bother you. Sorry!" I was like, "Hey David, how you doin'?" Wow, you're kidding me. You take yourself really seriously.
But you all came up around the same time...
We did, we did. But we're all bums. He's still a bum, even though he gets good reviews!
You sound like you say that with love.
I do.
Talking about The Ward, I know fans of yours are also wondering this: Why did it take ten years to see a new feature from you?
I got burned out after my last film, in 2001. Burned out from year after year of doing them back to back, and then doing the music. I was tired. I had given up my personal life and given up my health -- given up a lot of things, because of my love of movies, and I'd stopped loving cinema.
It became work.
It became a grind, and I said to myself, "What am I doing this for?" But years later, after I'd had enough rest and done some other things, this Masters of Horror TV series that we did for Showtime brought me back. It was no pressure, I went for about a week or so to Vancouver and I was back on the floor again with actors, and it was great! Just fun. I was like, "I'm home again." So I thought I'd try something small, and this was perfect.
So why take on The Ward?
I've done an all-male cast, but this is almost an all female cast, and that was really appealing. It's also a movie about acting, as opposed to special effects. And special effects, no matter how cool they look, are really tedious. Acting is much more interesting -- and I like actors. Didn't in the beginning, but I've grown to really love them.
Have you changed in the way that you work with them?
I understand them now. I understand what they do much more than I ever did. I was scared back then. Terrified.
In what way? You're the director, the one in control of the set and the creative vision...
Well, not when you're young and you're starting out. They know so much, or she's so beautiful, or he's been in all these great movies. Then I realized, wait a minute here. So actors can be, unless you get stuck with somebody bad, which happens...
Were you looking at a variety of different kinds of stories and projects when you decided on The Ward?
It was the first one that came up. There were a couple of others that came and went, for various reasons, but it was the first one that made sense. And, the people who put up the money said, "Let's do it!" That's always a good sign.
Pages: 1 2