John Carpenter on His Decade Away from Filmmaking, the Problem With Today's Horror, and The Ward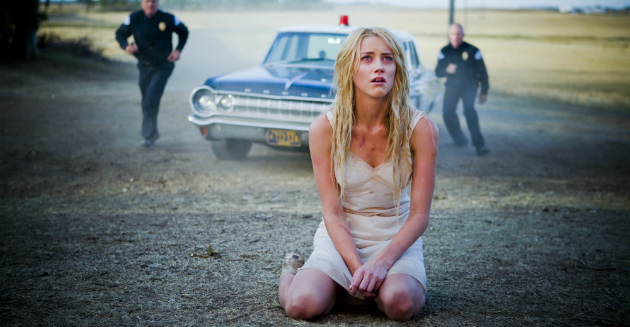 How did you find Amber Heard? Were you familiar with her work beforehand?
I wasn't until I started looking at her work. I was sent all of it, and I thought, these are interesting choices she's made. What's going on here? So we had a meeting and I said, "I see." She loves playing really strong, conflicted female characters. Very interesting. And here she's this model-beautiful girl, but she's got a lot going on inside.
You filmed The Ward in 2009; was there a reason we're only seeing it now in 2011?
Well, we cut it and we finished it last fall, it premiered in Toronto, and several distributors started negotiating with it. I said, fine. It's a small film; this is a low-budget movie and it's not going to compete with a big film. It's not got a lot of effects, you know. It's not that kind of movie. It's a movie that's going to find its own place, which is perfect for me.
Did this feel like, in a way, coming full circle for you?
Oh, yeah. It's familiar, it's great. And also, big movies are no fun. It's fun to make them, but you'd be surprised, on a big film you usually have these imposed deadlines that are impossible. "Well, we're going to give you X millions to make this -- but you have to have it on August 3rd." Oy! It's not good for the film, sometimes.
What was the last of your films that you felt that sort of pressure on?
Escape from L.A. Big time. Wasn't anybody's fault, that's just the business. You have to deal with it. Of course, I don't ever deal with that stuff very well. But hey, I can't complain about a thing.
How do you see the horror genre having changed over the years, especially as you're coming back into it at this point in time?
It's changed. It's like it always has been, in some ways. There are a few really good horror movies made each year, but mostly they're shit. Most all of them are bad. Most are derivative. Most don't try anything new. Now they pick up whatever style has just been popular and they just use it. People like to associate horror now with torture movies because of the popularity of Saw... I thought Saw was a good movie, I really enjoyed Saw. It was fun, it had a great twist ending...
What did you think of it by the time we got to Saw VII?
You know, I got a little bored with it. It's the same thing over and over, but it's OK. People want to see that. It's like Jackass. Let's see people -- and in Jackass they're willing! They're willing to be tortured and made fun of and have cruel things done to them, and they think it's cool. People nowadays, I think because of the internet and the culture, have become more cruel than when I was young. Look at the bullying. Look at what it does to people. Look at cyberbullying.
Does that then make the way that horror movies are consumed vastly different?
Oh, yeah. They're consumed like a lot of entertainment, it's just disposable. What you try to do is fight through that somehow, try to get the audience's attention in a more direct way. The really good movies do it. The Social Network was a terrific movie -- not a horror film, but boy, that did it. I don't care about what happened, but I started to care. Wow, look at this! Look at the issues we're dealing with in this!
What do you feel is the counterpoint to that in this film?
It's about the mystery of the main character and her identity. We're all afraid of the mentally ill, because of the part of us that's that way. Because we all know that, in our darkest, quietest hours, we all have a door in our brains that we don't want to open. We all have impulses from when we were young. We're all human beings, and human beings have these crazy impulses sometimes. That's what scares us about crazy people. We call them that, but whatever you want to call them; we're trying to be nice to them now. People who are different.
And setting that in the '60s in a mental institution --
I had to do that because you cannot lock someone up against their will now for longer than 72 hours, then if they don't want to stay, they don't stay.
It was also a time of extreme experimental mental health measures that seem so unsafe now, which lend themselves to a horror set-up.
LSD! I was a teenager! I remember it.
LSD seems a tad less humane than, say, electro-shock therapy.
Electro-shock therapy has been around for a long time, and it's pretty rough. They still do it, it can still be beneficial. But it's nothing like we did in the movie, it doesn't work like that. It happens like that [snaps fingers], and it's over. Kaboom! It's done.
Now, they're remaking, essentially, one of your classics, They Live, adapting a new film from the story that it was based on.
Eight O'Clock in the Morning! It's a good little short story that I based my movie on. They're going to maybe change it, of course, and that's fine. They're giving me a paycheck! They give me money to do nothing. This is a profession that I can get behind. I'm not kidding, it's fabulous! I've wanted a job like that all my life.
Are any of your films so dear to you that you might object to someone remaking them?
They're never going to be able to remake a movie like I made it first. They'll live on. My movies will live on. God bless you, you can have them. Go for it! It's a different vision with a different director, and that's just fine with me.
I love that attitude. Now, you've got a new film in the works; tell me about The Benders.
Go online and look up the Benders -- holy God! They were a family of German immigrants in the 1870s who murdered people along the road, travelers, and took all their money, their horses, their gold teeth, slit their throats, hit them over the head, kept them under the house, and buried them. It's just incredible. [The script] has this amazing female character who's the come-on, she was out there sexually luring them in there, and nobody knows what happened to the Benders. There are a lot of theories and we use one in the story. We're working on it now, and it could be great. We're in the scripting process. Could be good.
John Carpenter's The Ward is currently on VOD and hits theaters July 8.
Pages: 1 2