Social Network, True Grit Surge in Movieline's Oscar Index
Another busy cycle of hype, hurdles and more Oscar madness has come and gone, leading to an all-new edition of Moveline's 2010 Oscar Index. This week, the Coen Brothers throw their weathered cowboy hats in the ring, The Social Network builds full steam toward Friday's opening, and a handful of would-bes slide into the morass of also-rans. Read on, and let's break it down.
[Click on graphs for larger image.]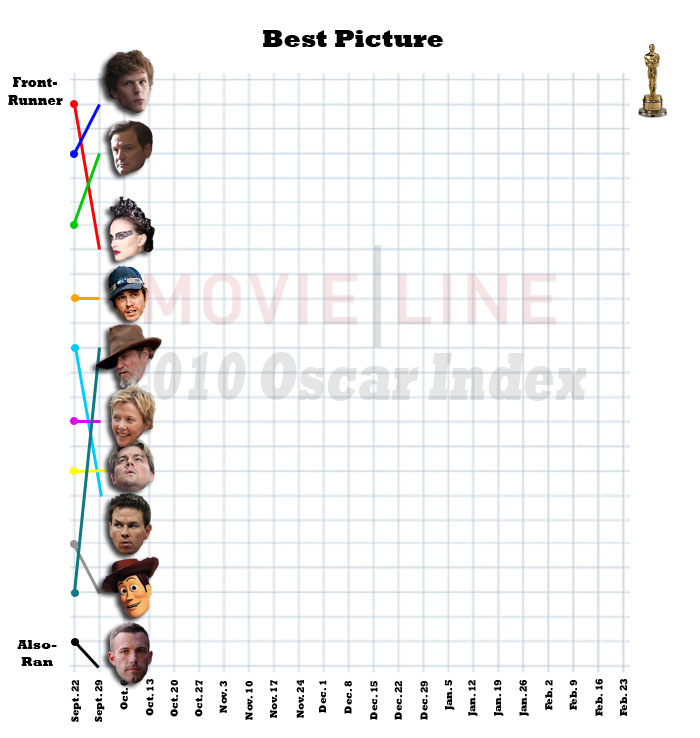 The Leading 10:
1. The Social Network
2. The King's Speech
3. Black Swan
4. 127 Hours
5. True Grit
6. The Kids Are All Right
7. Inception
8. The Fighter
9. Toy Story 3
10. The Town
Outsiders: Another Year; Secretariat; Made in Dagenham; Somewhere; Love and Other Drugs; Shutter Island
Notes: At this point it's probably not unfair to say The Social Network and The King's Speech are running close to neck-and-neck in terms of Best Picture hype -- though only David Fincher's has driven critics to the kind of blurb-spouting (and blurb-thwacking) passion that fueled the early runs of Best Picture winners like Crash and The Hurt Locker. And those didn't have an international conglomerate's Oscar war chest behind it. That said, sometimes it's better just to have a high, flat hum of approbation, a la King's Speech, about which you can say a lot of things with the exception that it's peaked.
True Grit's new teaser, meanwhile, was a little miracle of economy and pulchritude, a Very Serious taste of Oscar-caliber Coen Brothers with virtually every credit preceded with "Academy Award winner" this or "Academy Award nominee" that (and "Introducing Hailee Steinfeld" might as well read "Eventual Academy Award nominee," or something), portending great things in the month to come. It traded fortunes with The Fighter, which could really use a good teaser right now to deflect the reality that, oh yeah, Hollywood kind of hates David O. Russell. And does Paramount have the initiative or interest to campaign this beyond the performance categories, especially with True Grit so obviously pulling the studio's parade float?
Speaking of Paramount, it does supposedly have an inkling to nudge its Scorsese/DiCaprio hit Shutter Island back into Academy view. Over at Disney, meanwhile, Secretariat is receiving a bolder push as Not Your Father's Feel-Good Horse-Racing Biopic, with willful Diane Lane, eccentric John Malkovich and one hell of a fast thoroughbred seeming to offer something for everybody. Critics are embargoed but quietly impressed; the bigger the hit it is, the lockier it is for inclusion.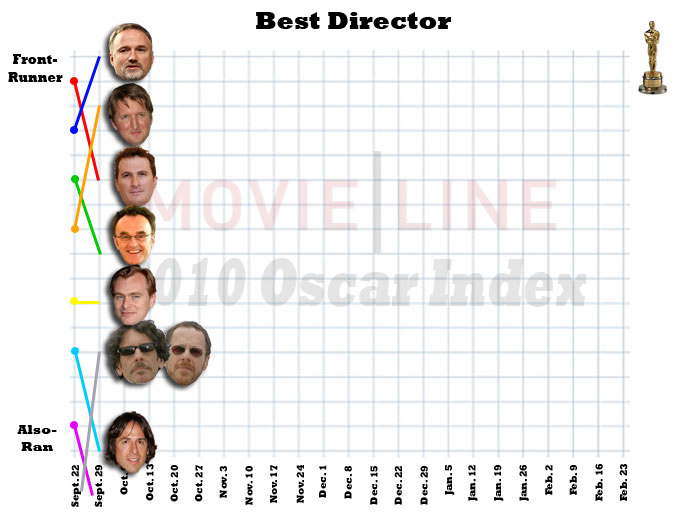 The Leading 5:
1. David Fincher, The Social Network
2. Tom Hooper, The King's Speech
3. Darren Aronofsky, Black Swan
4. Danny Boyle, 127 Hours
5. Christopher Nolan, Inception
Outsiders: Joel and Ethan Coen, True Grit; David O. Russell, The Fighter; Mike Leigh, Another Year; Ben Affleck, The Town; Lisa Cholodenko, The Kids Are All Right
Notes: The Coens this week crashed what's shaping up to be the most competitive major category, both reflective of and somewhat fluid against the conventional wisdom of Best Picture. Fincher and Hooper's profiles rose with their films, and Aronofsky slipped in the post-Toronto hangover (and you can pretty much forget about Ben Affleck at the moment). But you could still make an argument for every filmmaker here, which you can't necessarily do for all of their films -- with the exception of Fincher, I suppose, whose topicality (if not his brusqueness) will keep him high in contention through February.