Introducing Movieline's 2010 Oscar Index: Your Weekly, Fool-Proof Awards-Race Breakdown
Oscarology has never quite been what anyone would call an exact science. Hype is often too volatile a substance to mix or study accurately, and emotions run far too high among critics, fans and the Academy voters themselves to get a stable read on films' chances during awards season. But the gang at Movieline Labs have developed the most objective* means yet of measuring Oscar hopefuls.
Welcome to the inaugural Movieline Oscar Index, a weekly report of how prestige movies and the talent around them are faring in the top six Academy Awards categories. We'll be here with our lab coats and goggles through the bitter end, carefully reading the codes, compounds and mutations on the slow march toward Feb. 27, 2011, developing new formulas for this year's ranking favorites.
With Toronto behind us, this week seemed like as good as any to get started; we'll chart the progress of this week's projected nominees as their profiles rise, fall, and/or are overtaken around the zeitgeist. As always, your own data are more than welcome in Movieline's mix. You know where to leave it. (And click on the graphs below for larger versions.)
*: Compiled from reading/hearing general word-of-mouth, personal hunches and a mild favoritism complex.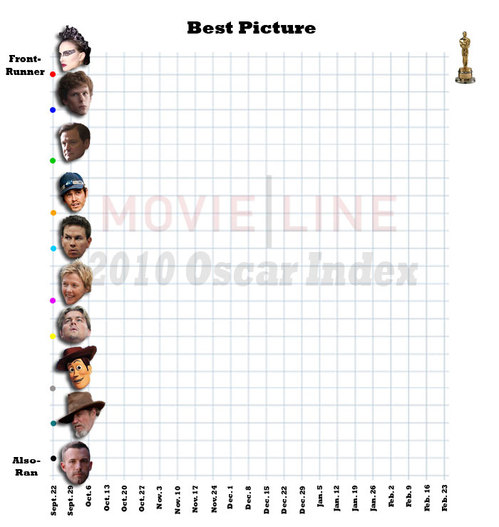 The Leading 10:
1. Black Swan
2. The Social Network
3. The King's Speech
4. 127 Hours
5. The Fighter
6. The Kids Are All Right
7. Inception
8. Toy Story 3
9. True Grit
10. The Town
Outsiders: Another Year, The Tourist, Made in Dagenham, Somewhere, Secretariat Love and Other Drugs
Notes: Despite the determined batsh*ttery of Black Swan, conventional wisdom among most Oscar trackers has at least the top eight films above pretty much locks for Best Picture consideration. Among them, only The Fighter and True Grit have yet to emerge onscreen -- leaving some (but not many) reservations for the roundly beloved Another Year to sneak into one of those spots.
Social Network has this weekend's big New York Film Festival premiere to officially kick off its campaign, which is fine, but recent history shows that Best Picture must go through Toronto. (Giving this year's festival Audience Award-winner The King's Speech all that much more momentum in the MOI's first week.) That also brings me to The Town, which has been the story of Oscar ascendancy since its rapturous TIFF reception and last weekend's critical and commercial success. Doubters may be right only insofar as Ben Affleck's film could peak too soon, but better to break out early than not break out at all. (Never Let Me Go, I'm looking at you.)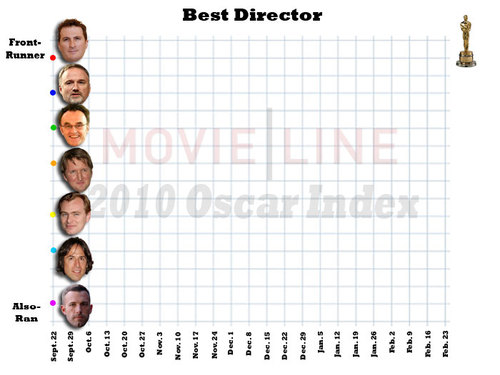 The Leading 5:
1. Darren Aronofsky, Black Swan
2. David Fincher, The Social Network
3. Danny Boyle, 127 Hours
4. Tom Hooper, The King's Speech
5. Christopher Nolan, Inception
Outsiders: David O. Russell, The Fighter; Ben Affleck, The Town; Mike Leigh, Another Year; Lisa Cholodenko, The Kids Are All Right; Lee Unkrich, Toy Story 3
Notes: It's another auteur-heavy year, with Warner Bros. and Chris Nolan looking to avenge his '08 snub for Dark Knight and Fox Searchlight committed to returning Danny Boyle to the running after his victory the same year. Hooper is the big question mark for now: Will the all-talent/no-name filmmaker get edged out in classic Driving Miss Daisy style, leaving Russell or Leigh to sneak in? Will Affleck get the honorary "Welcome back" nod? Did Kathryn Bigelow's victory last year open the door for Lisa Cholodenko to contend not only for a nomination but a win? (Probably not, though she looks dangerous in the Original Screenplay category.)