WATCH: 'Star Trek Into Darkness' Japanese Trailer − Does Spock Die In The Volcano?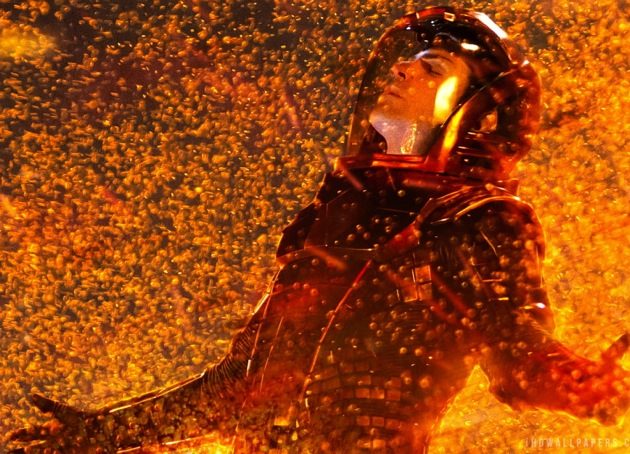 If you simply must Hoover up any new footage of Star Trek Into Darkness footage that's out there, then have a look at this Japanese trailer.  There are a few new morsels to be found in the footage, including a shot of Spock in the volcano looking perilously close to becoming one with the magma churning around him.  
There's also a scene of Peter Weller's character, Admiral Marcus, telling someone to "run this bastard down."  Presumably, he's talking about Benedict Cumberbatch's mayhem-causing character John Harrison, who's getting high marks for his performance in early reviews of the J.J. Abrams-directed movie.  Here's what Lucy O'Brien wrote on IGN:
"Cumberbatch himself has never been better. While he's proven his ability at volatile emotional-detachment with his role in Sherlock, he is, here, a true snake; an expressionless, sliver of a man whose mask only slips when he lunges for his prey. The Enterprise crew look trivial against him, their uniforms retro and goofy against his men's magazine sleekness. Even Spock, quite the regal figure, looks small next to him."
Nice description, although in this clip, Spock doesn't look small. He looks very, very hot:
I'm not too worried about him though given this photo, which surfaced a few weeks ago:
What do you think?
Follow Frank DiGiacomo on Twitter.
Follow Movieline on Twitter.