TRIBECA: 'Before Midnight' − Richard Linklater Hints That A Fourth Film Could Happen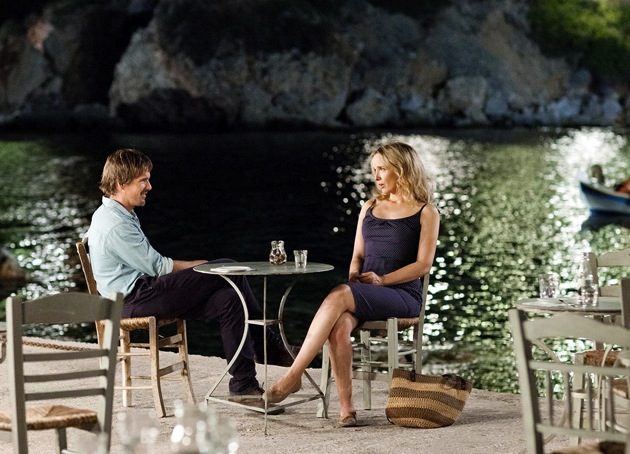 After Midnight, anyone?  The Richard Linklater-directed Before Midnight doesn't premiere at the Tribeca Film Festival until 6 pm. on Monday, but an hour before curtain time the filmmaker hinted that a fourth film in a sequence that began with Before Sunrise in 1995 and Before Sunset in 2004, was not out of the question.
Linklater joined the co-stars of the latest installment of his realistic romance,  Ethan Hawke and Julie Delpy, at the Tribeca Talks Directors series, and one of the final questions asked of the director was whether the third film was intended to tie up the romance between the American Jesse (Hawke) and the French Céline (Delpy)  18 years after they met on a train traveling to Vienna.
In the third film, Jesse and Celine are not just together they have two daughters in tow as they vacation and bicker in romantic Greece.  Watch the trailer and then I'll get to Linklater's response:
Ode to a Grecian Yearn
Linklater answered the festival goer's question by responding that Before Midnight was about capturing "that moment" in Céline and Jesse's lives. "It wasn't a summation. It's definitely not a final vibe," he said, before adding his own twist on a spoiler: "They're both still alive at the end of the movie...There might be another one. Who knows?"  But, he concluded that he and his cast didn't have to think about it for at least another five years or so.
This could be good news for fans of the film series, which has a die-hard following thanks to its warts-and-all approach to romance and relationships. If the film is as good as the early buzz indicates, the sequel could be inevitable and not take nine years to come out.  Oddly enough, although a nine-year time span separates the first and second and then the second and third movies, Linklater told festival goers that Before Midnight was scheduled to shoot this coming summer but production was moved up when the three collaborators realized that they each had openings in their schedules last summer.  The symmetrical nine-year space between the movies "was kind of a coincidence," Linklater said.
Follow Frank DiGiacomo on Twitter.
Follow Movieline on Twitter.