'This Is The End' Red Band Trailer: The 20 Funniest Moments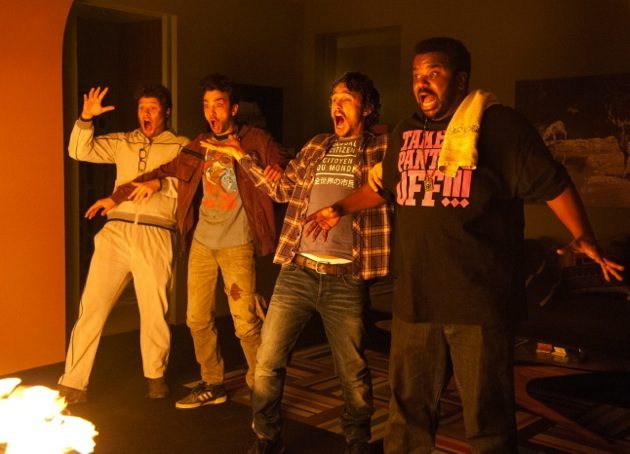 With three laugh-out-loud trailers in circulation, This Is The End is looking like the comedy of the summer. At the very least, it's going to make the phrase "titty fucking" extremely popular. And if it doesn't live up to the hype? We'll always have this latest red band clip, which is such a laugh riot that I've taken the opportunity to list the 20 funniest moments, in ascending order. 
Disagree? Leave your ranking in the comments section. And memo to Mr. Rogen:  please find a cameo for Will Ferrell before the movie is released. He and Craig Robinson should have a bat fight.
'This Is The End' Red Band Trailer
The 20 Funniest Moments:
20. Paul Rudd getting third billing on IMDb without even even appearing in the trailer.
19. The Beavis & Butthead way James Franco says "Machinima" in the introduction.
18. Emma Watson in extreme looting mode.
17. Craig Robinson expressing a little James Franco envy -- "Fuck your house, Franco!" -- after a runaway helicopter rotor leaves him with a boo-boo.
16.  Mindy Kaling overstating her desire to hook up with the "fucking pale, 110 pounds, hairless" Michael Cera.
15. The freaked-out lady getting crushed by a gigantic vintage air conditioner.
14. Cera shotgunning a massive cloud of cocaine into Christopher Mintz-Plasse's face and finishing with a Karate Kid move.
13. Jason Segel falling into a sinkhole with his belly hanging out.
12. Rihanna falling into the same sinkhole.
11. Robinson declaring Aziz Ansari unfit to rescue because "you're already in the [sink]hole."
10. Jay Baruchel managing to look sleepy even when he's terrified.
9. Robinson screaming like a little girl (in the last scene).
8. Michael Cera asking "Is it bad?" After being impaled by a lamp post.
7. The debate over who gets to a piece of James Franco's "special" Milky Way.
6. Rihanna smacking Cera—really hard—after he pinches her ass.
5. Franco's "You could be a looter. A rapist. A titty fucker" speech.
4. Emma Watson clocking Seth Rogen with an ax handle.
3. Robinson declaring: "We're actors. We pretend to be hard, man. We soft as baby shit!"
2. The bald dude offering to "titty fuck" his way to safety
1. Danny McBride: "Hermione just stole all of our shit."
Follow Frank DiGiacomo on Twitter.
Follow Movieline on Twitter.