WATCH: 'Funny Or Die Hard'? Will Ferrell's Site Celebrates Movie Deal & 5 Million Twitter Followers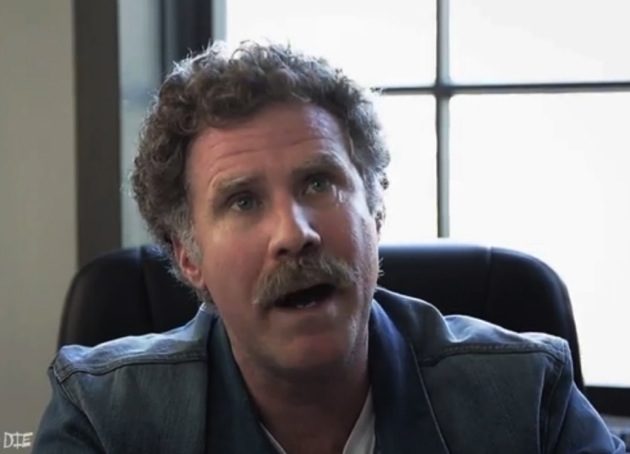 My dreams for a feature-length version of Funny or Die's "Bat Fight" are one step closer to reality. The comedy website started in 2007 by Will Ferrell, Adam McKay and Chris Henchy has partnered with Turistas and  The Lincoln Lawyer producer Scott Steindorff's Scott Pictures to produce two or three branded movies a year.
The story comes via The Hollywood Reporter on the same day that Funny or Die marked another company milestone — surpassing 5 million Twitter followers — via a video featuring Ferrell sporting another one of his memorable mustaches, touting his knowledge of Singapore, dropping the f-bomb and firing an intern. ("You are shit-canned. It's a can full of shit, and you are in it.")  On the subject of his lip broom, can anyone out there tell me if that baby is real or not? If it is, Ferrell should really do a how-to book on facial hair.
THR reports the deal could make Funny or Die the 21st Century comedy brand equivalent of National Lampoon and its Vacation film franchise. Funny or Die Hard, anyone?  I'd love to see that, even if its just a clip on the site, and I bet Bruce Willis would be game. And, by the way, with 20 million unique views per month, I would say Funny or Die has already surpassed National Lampoon as a brand. It's more like the Original Space Bag of comedy.
Here's Ferrell's Twitter video, and after that, what I hope will be the first feature to emerge from this joint venture: "Bat Fight," starring Ferrell and Hot Tub Time Machine actor Craig Robinson.
[Funny or Die, The Hollywood Reporter]
Follow Frank DiGiacomo on Twitter. 
Follow Movieline on Twitter.