Beasts Of The African Wild: 'War Witch' Star Rachel Mwanza Should Be As Famous As Quvenzhané Wallis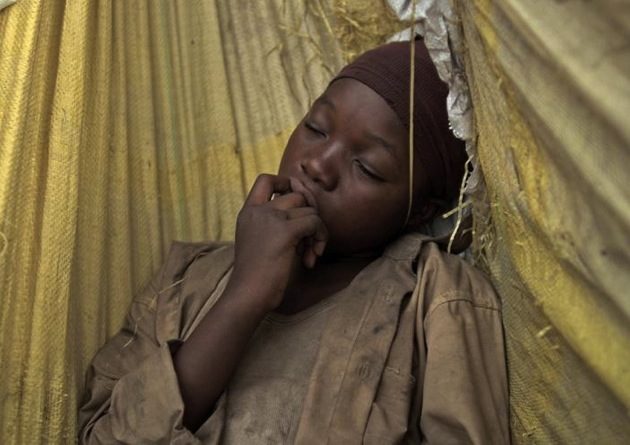 War Witch star Rachel Mwanza is headed to Hollywood, and she's earned her close-up.  On Wednesday, Tribeca Film announced that 16-year-old Mwanza has been granted a visa to travel to the United States to attend the Oscars and the Independent Spirit Awards this weekend, where War Witch is nominated, respectively,  in the Best Foreign Language Film and Best International Film categories. And it's time for the American media pays as much attention to her as it did to Quvenzhané Wallis.
If you didn't hit the film-festival circuit last year, where War Witch turned heads and won awards, then you might not be familiar with Canadian director Kim Nguyen'  powerful movie about Africa's children of war.  But I hope that's about to change now that Tribeca Film is about to make War Witch available to American audiences starting Feb. 26 on various VOD platforms and, theatrically, beginning March 1 in New York City.
War Witch is the anti-Beasts of the Southern Wild, and I'm not knocking the Benh Zeitlin's excellent film when I write that. Both movies show us dangerous, chaotic worlds from the perspective of a wise and courageous girl who is forced to grow up fast. Both films hinge on the mortality of parents and use mystical components to tell their stories,  and both films convey the message that hope and love can be found among the ruins. But War Witch ultimately proves to be the more powerful film because it is reserved and unsentimental where Beasts of the Southern Wild is effusive and romantic.
Mwanza, who had been abandoned by her family and was living on the streets of Kinshasha when Nguyen cast her,  plays Komona, the heroine of War Witch and the movie's narrator. Within the first scenes of the movie, her parents are killed in horrifying fashion — suffice it to say, she is present — when African rebels lay waste to Komona's village and enslave her and the other child residents as soldiers to fight against government forces. "Respect your guns. They are your new mother and father," the children are told as they embark on squalid lives of killing and dying.
Komona is designated a "war witch" by the guerrilla leader after she is fed "magic milk," a white tree sap with hallucinogenic properties that enables her to see the ghosts of the dead, including her parents, who warn her of impending attacks.
Nguyen's film is remarkably free of artifice and politics, and Mwanza's stoic performance is its cornerstone.  And if I can be sentimental for a moment, her performance has changed her life.  The makers of War Witch have provided her with a caretaker and are now overseeing her education.
For more on the movie, check out this extended featurette and here's hoping some enterprising publicist engineers a photo op with both Wallis and Mwanza.
Follow Frank DiGiacomo on Twitter.
Follow Movieline on Twitter.