More Peter Dinklage, Please! Four More Big Sequel Roles The Newly Minted 'X-Men' Actor Should Score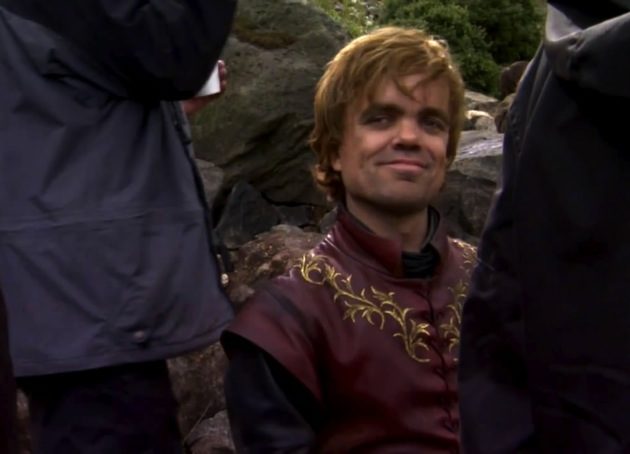 Director Bryan Singer  told Deadline yesterday that Emmy-winning actor Peter Dinklage will play a "key role" in X-Men: Second Class Days Of Future Past. This is, of course, great news for the spiffily dressed but not terribly interesting Mad Men mutants. Fans of Game of Thrones, Elf, 30 Rock, and The Station Agent have long known that Dinklage brings intelligence, gravity, and a scary-sharp wit to every production. In fact, I'd go so far as to declare that Dinklage is such a valuable asset every tentpole this year should add him to its cast. The Words of Peter need to spread far and wide.
Here are four roles in 2013's biggest sequels that Dinklage would tyrannize, or is that Tyrionize? :
The Mandarin in Iron Man 3:  It's time for a real challenge to Tony Stark. The first two installments had the billionaire superhero playing rock'em, sock'em robots, and The Avengers portrayed Stark as the coolest guy in the room. The trilogy-closer should give Robert Downey Jr. a truly worthy foe – one who's smart enough to launch both a physical attack and a charm offensive. Because as awesome as his high-tech salute to the San Francisco 49ers is, Iron Man's real weapon is his crinkly-eyed charisma and all the things it can get him, like Gwyneth Paltrow's attention. Dinklage's past performances suggest he's Downey's equal in the smart-ass and getting-ass departments, so the perfect showdown for Iron Man 3 would pit Iron Man's quips against The Mandarin's drollness in a game of pwns so amazing it'll create a whole new level of snark. (Yes, Dinklage isn't Chinese, but neither is Ben Kingsley or that indeterminate accent he's working in the trailers.)
Beetee in The Hunger Games: Catching Fire: Strength, speed, and cunning won Katniss her first Hunger Games, but that won't be enough to clinch a second victory in Catching Fire. With the Capitol out for blood — sigh, aren't they every year? — our ponytailed heroine needs alliances, even with total dorks like Peeta, to win the 75th Games, an all-star challenge that pits previous winners against each other. Dinklage's lack of physical threat makes him perfect for the role of Beetee, a middle-aged electrician who's formidable precisely because he doesn't seem like it (and because he didn't go to school in pouty archery). The Hunger Games trilogy is, among other things, great strategy porn, and the sight of Dinklage using what his mama gave him – those full, luscious brains – would make compulsive voyeurs of us all.
Tad Fawn, sensitive ladies' man, in Anchorman 2: The Legend Continues:  After Veronica Corningstone brought women's lib to San Diego, the tides have turned on Ron Burgundy and his pelted goons. Southern California's most-laid local celebrity is now Tad Fawn, the fuzzy sweater-loving, Stevie Nicks-adoring host of a popular PBS show about pet care. It's frustrating enough to Ron that Cuddle Buddies is beating Channel 4 Evening News in the ratings, but now Tad is threatening to steal Ron's greatest career achievement: the 1979 Playgirl's Burt of the Year title and centerfold. Dinklage's best roles have allowed the actor to play the wounded bad boy, plus his real name is dirty enough to be his porn name. Dinklage is long overdue for a showcase for his sexy beast, and what better a forum could there be than a man-off with a soft, confused Will Ferrell?
Guy who slaps around Adam Sandler and his friends in Grown Ups 2: That's it. That's the whole movie. I would, in fact, jump at the chance to get on a bus for half an hour, fork over $12 to the hungover teenager behind the counter, and suffer through a bunch of trailers I've already seen online but LOUDER just for the privilege of watching Dinklage slap the smirks off Adam Sandler, Rob Schneider, David Spade, and Kevin James for whining about how being a straight white guy in an America where women they don't find attractive have the gall to exist is just so hard, man. (Chris Rock gets a pass because it's his first Happy Madison flick. He won't be in the sequel.) When Dinklage gets tired, he can put on a snazzy suit and start throwing them around the room. He's kind of the king of that.
Inkoo Kang is a film critic and investigative journalist in Boston. She has been published in Indiewire, Boxoffice Magazine, Yahoo! Movies, Pop Matters, Screen Junkies, and MuckRock. Her great dream in life is to direct a remake of All About Eve with an all-dog cast.
Follow Inkoo Kang on Twitter.
Follow Movieline on Twitter.