Sean Penn As Vince Vega? Paul Calderon As Jules Winnfield? 'Pulp Fiction' Could Have Been So Different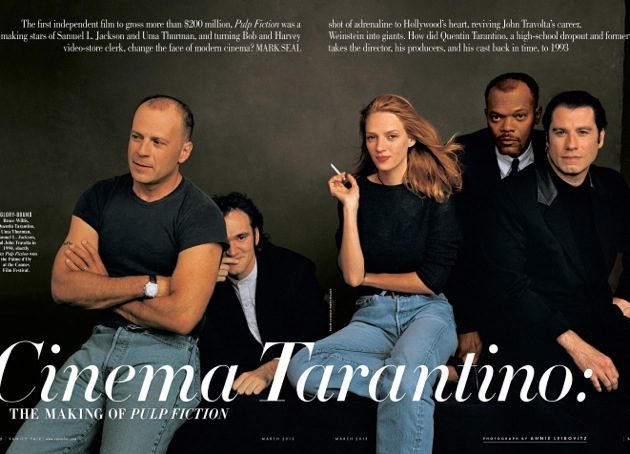 Twenty years after John Travolta and Samuel L. Jackson, as Vincent Vega and Jules Winnfield, became arguably the most iconic hitman duo in contemporary cinema, it's hard to imagine any other actors tackling those roles — especially the Royale with Cheese conversation. But the new issue of Vanity Fair  serves as a reminder that their Pulp Fiction parts almost went to other actors. 
The magazine's annual Hollywood issue includes an oral history on the making of Quentin Tarantino's violent 1994 masterpiece that recalls Miramax chief Harvey Weinstein was seriously opposed to Travolta being cast as the marvelously mooky Vega.  "John Travolta was at that time as cold as they get," Tarantino's William Morris Endeavor agent Mike Simpson tells the magazine. "He was less than zero."
When Tarantino, who was dead-set on Travolta playing the role,  submitted a term sheet that included his final choice of actors for the movie, Weinstein approved all of his choices except for the onetime Saturday Night Fever star.  Two much more bankable actors, Daniel Day-Lewis and Bruce Willis, had read the script and expressed interest in playing Vega, and  Sean Penn and William Hurt were also on Weinstein's short list. But Tarantino and his agent proved to be even more stubborn. When negotiations over Travolta came down to the wire, and Weinstein attempted to put off casting the actor,  Simpson told the movie mogul: "You're going to agree to it right now, or there's no deal."
Weinstein blinked, and former Miramax production head Richard Gladstein says that 20 minutes into a screening of the finished film, Harvey cracked, "I'm so glad I had the idea to cast John Travolta."
Jackson, on the other hand, almost lost the role to Paul Calderon  (Out of Sight, 21 Grams) and had to fly in for an eleventh-hour audition. He wasn't happy about it, especially after one of the producers confused him with actor Laurence Fishburne (The Matrix). That actually turned out to be a good thing based on this distillation of the audition:
"I sort of was angry, pissed, tired," Jackson recalls. He was also hungry, so he bought a takeout burger on his way to the studio, only to find nobody there to greet him. "When they came back, a line producer or somebody who was with them said, 'I love your work, Mr. Fishburne,'" says Jackson. "It was like a slow burn. He doesn't know who I am? I was kind of like, Fuck it. At that point I really didn't care." Gladstein remembers Jackson's audition: "In comes Sam with a burger in his hand and a drink in the other hand and stinking like fast food. Me and Quentin and Lawrence were sitting on the couch, and he walked in and just started sipping that shake and biting that burger and looking at all of us. I was scared shitless. I thought that this guy was going to shoot a gun right through my head. His eyes were popping out of his head. And he just stole the part." Lawrence Bender adds, "He was the guy you see in the movie. He said, 'Do you think you're going to give this part to somebody else? I'm going to blow you motherfuckers away.'"

Follow Frank DiGiacomo on Twitter. 

Follow Movieline on Twitter.