'Pacific Rim' Vs. Real World Physics: Giant Robots, Galileo, And The Square Cube Law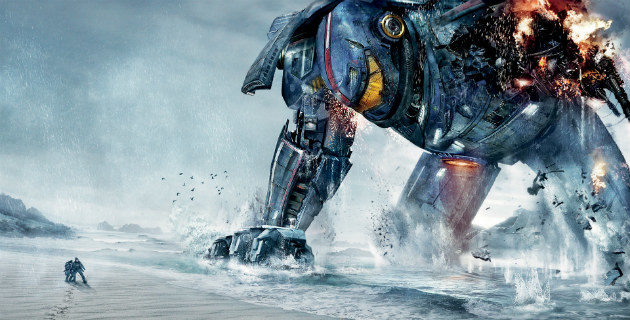 The square cube law also affects constructed objects. Aircraft, for instance, need increasingly bigger proportional wingspans the larger the plane, until they get so big they're too heavy to get enough speed to take advantage of whatever lift their giant wingspans can provide. (Imagine a Boeing 747-sized flying monster try to take off. Those broken wings ain't ever going to learn to fly again.) And buildings, for that matter, have a natural limit to their size as well; without modern support structures most skyscrapers would collapse under their own weight. And, in case we forgot, robots would affected too.
Giant robots would have to contend with the way the square cube law affects both biomechanical processes and constructed objects. Lubricants that keep the machine from overheating and freezing up would have to travel enormous distances in incredibly short periods of time, something anyone familiar with city-sized plumbing systems know would be a serious problem. Gigantic, powerful motors, gears, levers and the like would be required to move the machine's monster-sized limbs in earth-normal gravity. And of course, these processes would have to be able to do so despite the machines' incredible weight**.
That's another issue — weight distribution. A giant humanoid machine would, as we've seen, be insanely heavy - all that weight supported by the machine's two humanoid legs. Those tow legs then become points through which the machine's enormous bulk is focused. Those legs are going to punch through anything remotely pliable – dirt, sand, grassland, concrete, streets, etc – like a knife plunging through a graham cracker. Oops.
The epic battle between giant robot and giant monster? In real life it's going to involve a fragile robot sunk waist-deep in the ground, punching slowly and feebly at a heart attack-suffering reptile reduced to the humiliation of using a skyscraper-sized mobility scooter just to forage for food. Forget spending billions developing mecha; all humanity needs to do is wait for the creature to pass out, which should be about 15 minutes after it begins its attack.
Obviously, I don't want to watch that version of Pacific Rim – unless it ends with the UN establishing a chain of monster burger restaurants as a way of funding the rebuilding effort. So I'll go in ready to accept the premise with a open mind and heart. But for the love of science, let's hope they at least a throw in a stray line of dialogue explaining how these things are even possible. Nothing too elaborate, just a simple "It's a good thing we went back in time and punched Galileo," or "Thank heavens we completely pwned the square cube law at the same time we invented cold fusion."
On the other hand, that skyscraper-sized scooter sounds pretty awesome. Maybe bring it out for the sequel?
** No doubt this is why most of Voltron's battles take place in space.
READ MORE ON PACIFIC RIM:
WATCH: Do The Jaeger Meisters In New 'Pacific Rim' Trailer Defy Logic?
WATCH: 'Pacific Rim' Trailer Dares Mayan Calendar To End The World
Pacific Rim: The Characters and Robotic 'Engineering Feats' of Guillermo Del Toro's Monster Sci-Fi Pic
Ross Lincoln is a LA-based freelance writer from Oklahoma with an unhealthy obsession with comics, movies, video games, ancient history, Gore Vidal, and wine. Follow him on twitter (@rossalincoln).
Follow Movieline on Twitter.
Pages: 1 2