Daniel Craig Appears To Be Missing From 'Perfect Bond' Composite Photo − Which Looks Like Bill O'Reilly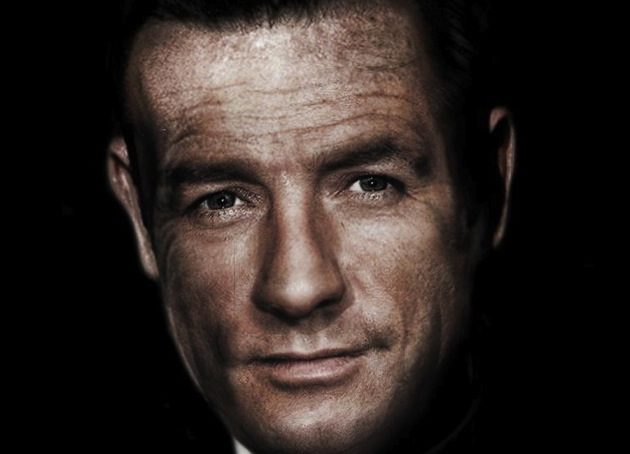 Remember a couple of days ago, when we saw what purported to be the perfect Batman, a composite photo created from all the actors who have played Batman onscreen (we assume he'd sound like Kevin Conroy)?  Not to be outdone by the combination of multiple, independently wealthy superheroes, an enterprising person has done the same for Britain's top wetwork operative, James Bond.  
The 'perfect' 007  is something of a creepy masterpiece, possessing as it does all the finest qualities of the actors who have infused Britain's top spy with their smarmy essences. The bad toupee and suit of Sean Connery! The bedroom eyes and soft cheeks of Pierce Brosnan! The radar ears and, presumably, bad career decisions of George Lazenby! The poncy elegance and eyebrows of Roger Moore! The fiercely lined cheeks of Timothy Dalton! And of course, the... stunning abs??? of Daniel Craig.
I can't for the life of me find Daniel Craig in this. Any of you readers care to wager a guess as to where he's hiding? I mean, besides Eve Moneypenny's bedroom, of course.
This truly is a thing of beauty, but I have to be honest: the composite image looks less like the ideal James Bond and more like James Bond after he's retired from MI6 and has been elected to Parliament from the borough of Brothel-Upon-Liquor Store. As played, of course, by early 1980s Richard Burton — or a younger, less jowly version of Fox News' Bill O'Reilly.  (Check it out.)
Ross Lincoln is a LA-based freelance writer from Oklahoma with an unhealthy obsession with comics, movies, video games, ancient history, Gore Vidal, and wine.

[iO9]
Follow Ross Lincoln on Twitter.
Follow Movieline on Twitter.