High and Low: Robert Pattinson and Dean Martin As Two Very Different Men-About-Town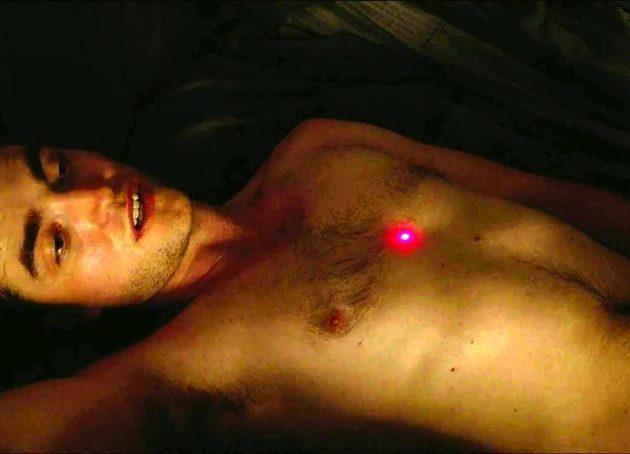 Let's kick off the new year with lady-killers of two different generations: Twilight heartthrob Robert Pattinson retains his seductive abilities in a very different kind of role, while Dean Martin gets embroiled in a 1960s sex farce. Both movies are thoroughly entertaining, but they're also about as polar-opposite as it gets, making them the perfect antipodes for my first column of 2013.
HIGH: Cosmopolis (EOne; $24.98 DVD, $29.98 Blu-Ray)
WHO'S RESPONSIBLE: Written and directed by David Cronenberg, based on the novel by Don DeLillo; starring Robert Pattinson, Juliette Binoche, Paul Giamatti, Samantha Morton, Mathieu Amalric, Jay Baruchel
WHAT'S IT ALL ABOUT: Wall Street whiz kid Eric Packer (Pattinson) just wants to drive across New York City in his thoroughly tricked-out white limozeen (as Dolly Parton might call it) to get a haircut from his childhood barber. But between a presidential visit, anarchist riots and mysterious death threats, Packer spends most of the day hosting an assortment of visitors (from mistresses to business associates bearing bad news) in the car,  exiting occasionally to share a series of elliptical conversations with his sexually-frustrated wife over meals. Is he doomed? Is the universe coming to an end? Anything can happen in this moody mix of Last Year at Marienbad via The Bonfire of the Vanities.
WHY IT'S SCHMANCY: Cosmopolis would make a perfect double feature with another Cronenberg literary adaptation, Crash; they both revolve around cars (and the juncture of man and machine) and everyone speaks in that whispery monotone that either makes you cock an ear toward the screen or storm out in irritation. This new film may test your patience with its seeming indifference to things like plot, but if you stick with it, you'll find that it does build toward something fascinating, helped along by a strong Pattinson performance that suggests he's got a post–sparkle-vampire screen career.
WHY YOU SHOULD OWN IT: The Blu-Ray features cast and crew interviews, and both versions offer a "Citizens of Cosmopolis" featurette and a director commentary; among today's filmmakers, Cronenberg ranks as one of the most articulate about what he does (albeit in a whispery monotone of his own), so his commentary tracks are always worth checking out.
LOW: How to Save a Marriage (and Ruin Your Life) (Sony Pictures Home Entertainment; $20.95 DVD)
WHO'S RESPONSIBLE: Written by Stanley Shapiro and Nate Monaster; directed by Fielder Cook; starring Dean Martin, Stella Stevens, Eli Wallach, Anne Jackson
WHAT'S IT ALL ABOUT: Bachelor David (Martin) tries to save the marriage of his best friend Harry (Wallach) by seducing Harry's mistress. David woos Harry's sexy employee Carol (Stevens), not realizing that Harry's mistress is actually Muriel (Jackson, Wallach's real-life wife). When Carol and Muriel figure out what's going on, they plot revenge.
WHY IT'S FUN: In my house, New Year's means another viewing of The Poseidon Adventure, which in turn reminds me of how delightful a screen presence Stella Stevens was in her heyday. One of her most charming screen performances comes in this fizzy farce, reteaming her with Martin, her co-star in the goofy spy flick The Silencers. This isn't great cinema, by any means — and 1968 was a little late in the game for this kind of relatively innocent sexcapade — but it's made by people well-versed in this sort of wacky farce: Shapiro won an Oscar for Pillow Talk; he and Monaster crafted another classic Doris Day romp, That Touch of Mink; and Cook's other 1968 release was the slightly naughtier who's-got-the-birth-control comedy Prudence and the Pill.
WHY YOU SHOULD OWN IT: Even if you're not as much of a sucker for this era of sex comedy as I am, the movie's très groovy visual palette (to say nothing of Stevens in a series of slinky outfits) will make for great video wallpaper at your next party.
Alonso Duralde has written about film for The Wrap, Salon and MSNBC.com. He also co-hosts theLinoleum Knife podcast and regularly appears on What the Flick?! (The Young Turks Network).  He is a senior programmer for the Outfest Film Festival in Los Angeles and a pre-screener for the Sundance Film Festival. He is the author of 101 Must-See Movies for Gay Men (Advocate Books).
Follow Alonso Duralde on Twitter.
Follow Movieline on Twitter.