Oscars E-Voting Too Hard For Tech-Illiterate Academy Members, Also Get Off My Lawn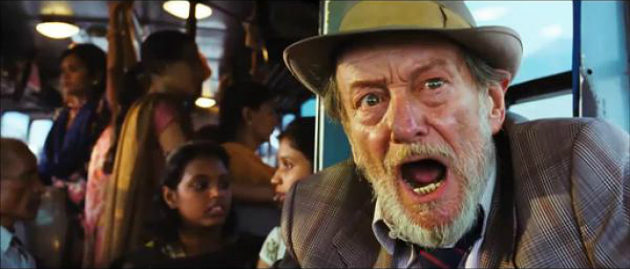 According to THR's Scott Feinberg, the Academy of Motion Picture Arts & Sciences' newfangled online voting system, implemented this year to make it easier for members to hand Anne Hathaway that statuette and such, is doing just the opposite. Voters can't remember their passwords, web security is questionable, and important papers are being mistakenly tossed in the trash like annoying credit card offers. "It's probably more difficult for members to log on than it is for hackers," said one Oscars voter. Wait a second guys: This could be great. Who needs a Brett Ratner — this could be just what the Oscars need to finally jazz and youthen things up!

Granted, it's a real problem. Who knows how many ballots won't be cast, or how e-apathy will decimate voter turnout? HOW WILL BEST EXOTIC MARIGOLD HOTEL GET ALL THE OSCARS??
Oh, I kid. And not to be ageist but as Feinberg points out, as we well know, the Academy skews older — a concern he and other pundits had when the e-voting change was announced:
At the time, some (me included) speculated that the change might be too much too soon, particularly because "more than a few members don't even have computers and/or know how to use the Internet." (The median age of the Academy's 5,765 members, according to a recent study, is 62.)
[UPDATE: It's worth pointing to Movie City News's David Poland, who suggests that the Academy's senior members are merely scapegoats for a flawed system.]
I'm sure the Academy will figure it out, extend a deadline, put a few more volunteers on the HelpDesk lines. And I'm positive the media hubbub won't attract the internet attention of those insidious hackers out there. The Dark Knight Rises, Avengers, Project X — your Oscar chances just skyrocketed!
I leave you with these actual real quotes from Oscar voters, via Feinberg:
"My son had to show me that I was done voting and what to press in order to submit. … The whole site was a little bit confusing. ... I imagine some of the less technologically savvy Academy members might be struggling with this. ... It would be an obvious target [for hackers]. … I'm not convinced that it's exactly the Fort Knox of sites. It's probably more difficult for members to log on than it is for hackers!"
"Listen, I don't do anything online. You know, I don't even have a computer. I'm writing my next book in longhand with drawings in notebooks!"
"I still haven't voted. I couldn't remember my password, so [after a few tries] they locked me out of it. Once they lock you out of it, you can't get back in, so you have to get a whole new password and everything, so I did that... I called the help line, and I asked them to walk me through it, and they were very polite and friendly, but you could just hear in the girl's voice that I was not the only one complaining that day. ... And then they said you can't vote for 24 hours. ... I have heard from several [fellow members] that it's been a disaster and they wanted to give up because they couldn't navigate the system. It wasn't even letting them in, requiring dual passwords and all this nonsense. ... It's easier to break into the CIA*."
*Not that this voter would seem to know from experience.
Read the full report over at THR and let's get to predicting what the 2012 Oscars will look like once our new haxorz overlords take over.
[THR]
Follow Jen Yamato on Twitter.
Follow Movieline on Twitter.