Pedro Almodóvar Busts It Out With Tease From His Latest, 'I'm So Excited'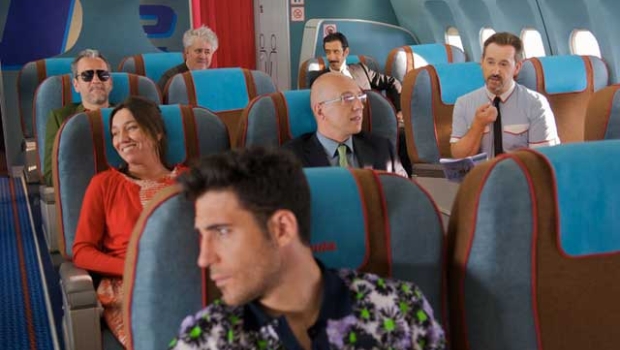 Pedro Almodóvar has taken a rather dark turn in his last couple of outings including 2011's The Skin I Live In and Broken Embraces (2009). Speaking in Cannes in 2011, Almodóvar admitted that he has a dark outlook on life, at least then, but he is still very capable of pulling out a comedy. And this teaser for his latest, I'm So Excited appears to be just that.
[Related: 'Zero Dark Thirty' Bows A New & Haunting Trailer]
There are not many detail about the film that his longtime U.S. distributor Sony Pictures Classics will open domestically sometime in 2013, but its stars include Carlos Areces, Raul Arevalo, Javier Cámara, Lola Dueñas, Carmen Machi, Laya Martí, Cecilia Roth, Hugo Silva, Miguel Ángel Silvestre, and Blanca Suárez.  
The clip seems to indicate I'm So Excited (a not-so-subtle reference to the Pointer Sisters early '80s hit) will be a high-flying Laugh Out Loud adventure complete with dancing queen flight attendants and at least one pilot asleep on the job. And even Pedro himself appears to be a passenger (seated in the back in the top image).
Almodóvar teased two Mays ago he was working on a comedy and even his first English-language script, though I'm So Excited or Los amantes pasajeros, which is its official Spanish title, appears to be firmly in his Spanish roots.
The trailer follows with English subtitles.