Tina Fey And Amy Poehler Pimp Out The Golden Globes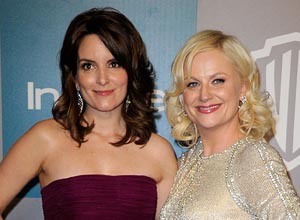 Tina Fey and Amy Poehler are not only co-hosts of the 70th Golden Globes this year, they're also competitors. Both were nominated for Best Actress in a Television Musical or Comedy, with Fey duking it out with her counterpart for 30 Rock, while Poehler is up for the award for Park and Recreation.
[Related: Golden Globes Unveil 70th Edition Nominees]
But while the co-hosts won't conceivably know the results until the envelope opens at the ceremony on January 13th, the pair are busy working together in the lead-up to the big event, and no doubt re-calling those good ol' Saturday Night Live days.
In this promo for the Globes, the duo are dressed in matching golden sparkly dresses and they both dish out cheesy Brit(ish) accents (until they don't). Maybe they're commenting on the resurgence of British-speak in Hollywood films reminiscent of the very early "golden days" of Hollywood? Who knows, but here's a funny look at what may bode well for the Globes telecast after the New Year.
[Source: Huffington Post]