Golden Globes Nominees React! Bigelow, Affleck, Hathaway & More Respond To Nominations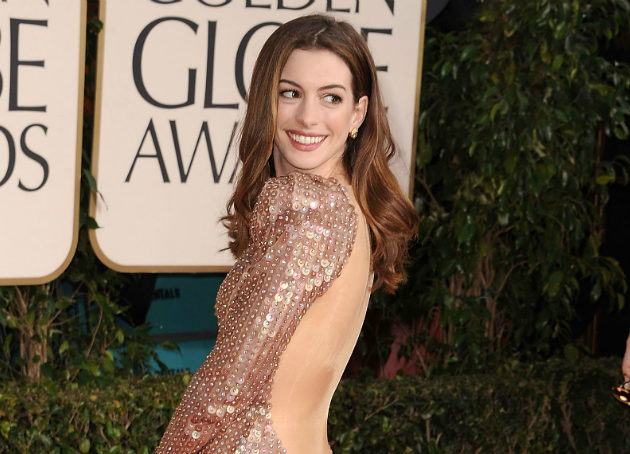 Happy Golden Globes Nomination Day everyone! While you mull over this year's crop of obvious picks ("Argo f*** yourself," Academy) and not so obvious surprises (Salmon Fishing in the Yemen, Hope Springs, Taylor Swift and Jon Bon Jovi? Are we really doing this, HFPA?) let's delight in the reactions of the chosen few who'll vie for Golden Globes glory on Sunday, January 13. (Updated as nominee reactions roll in...)

UPDATED with Jack Black hilarity & more:
Helen Mirren, actress, Hitchcock (Best Actress - Drama)
"Alma thanks you from the bottom of her heart for the recognition of her contribution to film."
Wes Anderson, director, Moonrise Kingdom (Best Picture - Comedy or Musical)
"I received this news by text message on the fast train to Berlin. The Hollywood Foreign Press has brightened a bleak snowy day in Germany for me. I could not be more pleased on behalf of our gang."
Jack Black, actor, Bernie (Best Actor - Comedy or Musical)
"OK...I'm only doing Richard Linklater movies from now on. I'm so proud of our little engine that could. Thank you HFPA!"
Emily Blunt, actress, Salmon Fishing in the Yemen (Best Actress - Comedy or Musical)
"I'm so incredibly thankful to the Hollywood Foreign Press for recognizing our little movie that could. Ewan and the entire cast and crew could not be more deserving of this honor, and I'm thrilled that I'm able to share this moment among such a fantastic group of nominees."
Ben Affleck, director of Argo (Best Director, Best Motion Picture - Drama)
"I want to thank the Hollywood Foreign Press Association for honoring Argo with five nominations. These nominations reflect the courage and determination of real life heroes in the US, Canada, Iran and across the globe. They honor more than 120 actors with speaking roles in multiple languages, thousands of extras in the US and abroad as well as hundreds of extraordinary crewmembers who poured their heart into the film — including the great Alan Arkin, brilliant Chris Terrio and extraordinary Alexandre Desplat, who were nominated today as well and who have my congratulations and gratitude. Thanks again to the HFPA for their support."
Kathryn Bigelow, director/producer of Zero Dark Thirty (Best Director, Best Motion Picture - Drama)
"It's an honor, sincerely, and very humbling to be singled out this way by the HFPA. We're grateful, and encouraged by their support, especially since our film has such a diverse, international cast, and as the HFPA represent so many countries across the globe. And a big congratulations to the amazing Jessica Chastain and my producing partner and screenwriter Mark Boal."
Anne Hathaway, actress, Les Miserables (Best Supporting Actress)
"What a great way to wake up! I couldn't be happier or more grateful for this news. Congratulations to Hugh and everyone who worked on Les Miz for their contribution to the best picture nomination!!!"
Judi Dench, actress, Best Exotic Marigold Hotel (Best Actress - Comedy or Musical)
"This is lovely news… Having had such a glorious time in India, I'm so happy for John Madden and Graham Broadbent and delighted to be included in such a wonderful group of fellow actors."
Richard Gere, actor, Arbitrage (Best Actor - Drama)
"This was a complicated and challenging role. It's nice to have the HFPA acknowledge the performance and for me to share the nomination with such brilliant actors."
John Hawkes, actor, The Sessions (Best Actor - Drama)
"I'm so honored by these nominations and excited that the film is receiving this recognition." 
Alan Arkin, actor, Argo (Best Performance by an Actor in a Supporting Role in a Motion Picture)
"I am deeply grateful for this honor and particularly moved in being in the company of Christoph Waltz, Leonardo DiCaprio, Philip Seymour Hoffman, and Tommy Lee Jones who I deeply admire. I am also thrilled that Ben is getting the
attention he so much deserves, as is Argo."
Mark Boal, writer/producer of Zero Dark Thirty (Best Original Screenplay and Best Picture - Drama)
"We're very grateful to the HFPA. It means so much to us that press representatives from around the world have reacted with such praise. It's especially flattering as we've seen the film from the beginning as a global story, one that involved and impacted much of the world. Congratulations to Kathryn Bigelow and Jessica Chastain on nominations much deserved."
Tim Burton, producer/director of Frankenweenie (Best Animated Feature Film)
"I'm thrilled to be recognized by the HFPA. Frankenweenie is a very personal project for me and the nomination goes as much to the animators who labored frame by frame to bring this film to life."
Mark Andrews, director of Brave (Best Animated Feature Film)
"The adventure of Brave began in Scotland, where the mystery and majesty of the land fueled our imaginations. From haggis to highland games, creating this film truly changed our fate. On behalf of everyone at Pixar, we would like to thank the Hollywood Foreign Press for the incredible honor of this nomination."
Graham Broadbent, producer, Best Exotic Marigold Hotel (Best Picture - Comedy or Musical)
"Marigold seems to be turning in to the 'little film that could'. We've had a wonderful ride — it's been hugely enjoyed by audiences around the world, and that's really enough for any filmmaker. We couldn't be happier that the HFPA and SAG are remembering our film, all our cast, and particularly our two 'international treasures' Dames, Judi and Maggie.
Ol Parker's script and John Madden's vision made an experience in the cinemas that was both emotional, transforming and very funny, and reminded audiences of an important universal message, 'there's more life to live' — whatever your age.
We are so pleased with our passionate partners at Fox Searchlight and Participant for the care they've given our film."
Chris Terrio, screenwriter, Argo (Best Screenplay)
"Having a screenplay produced for the first time is a tremendous gift for any writer. To see the script directed by Ben, with the brilliant cast and crew he assembled, and then honored by the HFPA, feels like winning the screenwriter lottery."
Alexandre Desplat, composer, Argo (Best Original Score – Motion Picture)
"It is an honor to be nominated again by the HFPA. Writing the score for Argo was a rare experience and I wish to thank Ben Affleck, George Clooney, Grant Heslov and Chay Carter for taking me onboard their flight to Iran. I want to share my nomination with all the brilliant musicians from all over the world who performed on my score."
RELATED ARTICLES:
Golden Globes Unveil 70th Edition Nominees
Globes Analysis: Hooper, Russell, De Niro Snubbed & Is Waltz Really A Supporting Actor?
Follow Jen Yamato on Twitter.
Follow Movieline on Twitter.