Richard Armitage Talks 'Hobbit' And Thorin Oakenshield, Takes A Phone Call From Sauron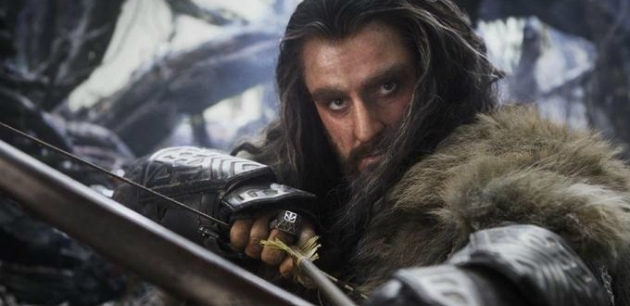 Where were we? Orcrist!
But not the Arkenstone?
I don't think I ever even saw the Arkenstone. Yes I did! I saw it at a distance being held up to me mockingly. But because it's a special effect — it glows — there's nothing there.
Not even a physical prop?
Well, yes. It looks like a bath soap.
Not very romantic.
No.
I almost thought at one point in the movie that Thorin was going to do the "We few, we happy few" speech from [Shakespeare's] Henry V —
Balin says that in the flashback — we few that survived! It's very Shakespearean isn't it? It's interesting because when I was doing preparation I was doing a lot of vocal work, and in order to do this workout I was picking out soliloquies to use. A little Henry V, a little Richard III, a little bit Macbeth. And then I thought, ok, why have I picked these speeches? It's like turning over tarot cards. There's a reason why I was instinctively drawn — I had like 5 pages I was working on every night — and it's almost like there's a little bit of everything in there. The Henry V is that sort of battle rallying idea, and there's a little bit of self-hatred in Richard III, and there's a good amount of taking the wrong path in Macbeth. I suddenly thought, 'All of this stuff is relevant.' I didn't deliberately weave it through the character but it was just there, like a tone.
In regards to Richard III and Macbeth, you could also say there's a lot of greed in Thorin.
Yes! Absolutely!
Do you see that as his over-arching narrative throughout the film? [The renunciation of] greed? Or revenge?
It's more about — yes, he was bequeathed a revenge upon Azog for his grandfather's beheading. He also has to take his people back to the mountain to reclaim the gold that was taken from them in this horrific Holocaust whereby the dragon came and decimated his people. It's not altruistic. It has to be personal and he wants to be King Under the Mountain. That means taking back the gold. The greed aspect is something that — as he gets closer to the mountain, it's like the greed draws him and the gold corrupts him.
Certainly in the novel, as you speak of getting close to the mountain in physical distance, he also gets closer somehow to the character of Smaug.
I think he is probably corrupted by the gold as Smaug was fattened by it. But that's the aspect of Thorin's character that he's ashamed of. He knows it exists. It's like a line that runs through his family of greed. And when they come in contact with gold it corrupts them. It happened to his grandfather. I always imagined that Thorin was probably closer to [his grandfather] Thror than he was to [his father] Thrain. I think that Thror hid himself away when he got the dragon sickness, and Thorin kind of kept him behind closed doors and would nurse him through his sickness. Kept the door closed so no one ever saw the king. I think he witnessed the physical effects of that. So when we get into film III, you'll see the manifestation of what that is.
Physically?
A physical sense. It's not just the desire for greed. I saw it as a physical ailment. If [director] Pete [Jackson] decides to use that.
Are you done filming?
No. We still have to shoot the Battle of the Five Armies.
Oh, so nothing big then.
Yeah.
Is there a scene you have shot that from movies II or III that you can't wait to show the world?
When they enter the mountain. That was a really special scene because of what it means. It's the monumental moment.
You've mentioned Christian themes as something that drew you to the project —
It wasn't important to me, no, but I can feel it bubbling through Tolkien's words. I don't think he ever intended that. You can just feel his beliefs underneath his work. He hated allegory. Unlike C.S. Lewis, he did not want a kind of allegorical story. He wasn't talking about the second world war. Sauron is not Hitler. He absolutely didn't want that. But the Christianity is just something I can sense. He's not giving a religious message.
* It means "Axes of the Dwarves! The Dwarves are upon you!" As Mr. Armitage correctly points out, it is in fact from The Two Towers.
READ MORE ON THE HOBBIT: AN UNEXPECTED JOURNEY:
'Hobbit' SFX Master Joe Letteri: 48 FPS Enhances 3-D, But 'It's A Choice'
'The Hobbit' At 48 FPS: A High Frame Rate Fiasco?
'The Hobbit' 3-D Early Review: Back Again, But Not Quite There
Follow Shawn Adler on Twitter.
Follow Movieline on Twitter.
Pages: 1 2