'Skyfall' Heads Back To Number 1 In Weak Weekend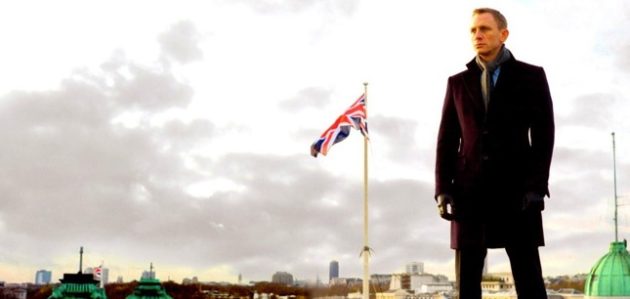 Skyfall once again headed to the top spot in the box office over the weekend, grossing $11 million in a weekend that only had one weak showing from a major newcomer, Playing for Keeps. With little momentum behind it, the movie opened with only $6 million. Overall, the top 10 only took in $69.14 million, making it one of the lowest grossing weekends of 2012.
1. Skyfall
Gross: $11 million (Cume: $261.6 million)
Screens: 3,401 (PSA: $3,234)
Week: 5 (Change: - 33.6%)
A weak showing from the only major newcomer Playing for Keeps allowed the latest and most successful Bond installment to move back into number one over the weekend. It is within reach of becoming Sony's highest-grossing film of the year, passing the studio's The Amazing Spider-Man which totaled $262 million. The title is on track to make a final come of $290 million or even $300 million, which would give it bragging rights of over $120 million to $130 million more than the previous 007 record from Quantum of Solace.
2. Rise of the Guardians
Gross: $10,450,000 (Cume: $61,913,574)
Screens: 3 (PSA: $2,896)
Week: 3 (Change: - 21.3%)
Last weekend's number 4 shot up to second this weekend with only a 21 percent drop. The pic has a Christmas connection which should give it momentum through the month, but its total at nearly $62 million may make a $100 million cume a challenge.
3. Twilight Saga: Breaking Dawn Part - 2
Gross: $9.2 million (Cume: $268.7 million)
Screens: 3,646 (PSA: $2,523)
Week: 4 (Change: - 47.2%)
The film is now $1.4 million ahead of New Moon at the same point. It dropped two slots to number 3 after placing first for three weeks. The title lost 362 theaters from the previous weekend and its $2,523 average compared to $4,345 one week prior.
4. Lincoln
Gross: $9,115,000 (Cume: $97,335,000)
Screens: 2,014 (PSA: $4,526)
Week: 5 (Change: - 31.9%)
Lincoln lost only four theaters in its fifth weekend. It should pass Argo as the highest grossing film so far among the major Oscar hopefuls. It ranked third last weekend after grossing over $13.5 million. Its $4,526 average was the highest among the top ten titles.
5. Life of Pi
Gross: $8.3 million (Cume: $60,917,529)
Screens: 2,946 (PSA: $2,817)
Week: 3 (Change: - 32%)
Life of Pi again rounded out the top 5 over the weekend, grossing $8.3 million, down 32% from $12 million last weekend. The title added 928 theaters. Overseas, the film has grossed nearly $106 million.
6. Playing for Keeps
Gross: $6 million
Screens: 2,837 (PSA: $2,115)
Week: 1
The marketing effort ahead of its release was kept minimal and the result reflected that. This is star Gerard Butler's second recent bad showing after Chasing Mavericks which has only cumed $5.8 million to date.
7. Wreck-It Ralph
Gross: $4,904,000 (Cume: $164,448,000)
Screens: 2,746 (PSA: $1,786)
Week: 6 (Change: - 29.4%)
The animated pic lost 341 theaters over the weekend, falling one spot to 7th in the rankings. Combined with $51.1 million abroad, the pic has a come of over $215,548,000.
8. Red Dawn
Gross: $4,261,000 (Cume: $37,265,815)
Screens: 2,754 (PSA: $1,547)
Week: 3 (Change: - 34.4%)
Again placing 8th, it dropped a relatively stable 34.4% after dropping 27 theaters.
9. Flight
Gross: $3.13 million (Cume: $86,202,236)
Screens: 2,431 (PSA: $1,288)
Week: 6 (Change: - 30.1%)
The Oscar hopeful starring Denzel Washington lost 172 locations and again placed ninth in the ranking. Worldwide the title has cumed $89,629,680.
10. Killing Them Softly
Gross: $2,784,000 (Cume: $11,807,737)
Screens: 2,424 (PSA: $1,149)
Week: 2 (Change: - 59.7%)
The Brad Pitt starrer placed 7th in its debut and will likely move out of the top 10 after its second weekend. It remained in the same number of theaters as its bow, but dropped a steep 60%. The pic will likely disappear from theaters by Christmas.
[Sources: Rentrak, Box Office Mojo]