Carrie Underwood As Maria Von Trapp?! Sound Off On NBC's 'Sound Of Music' Redo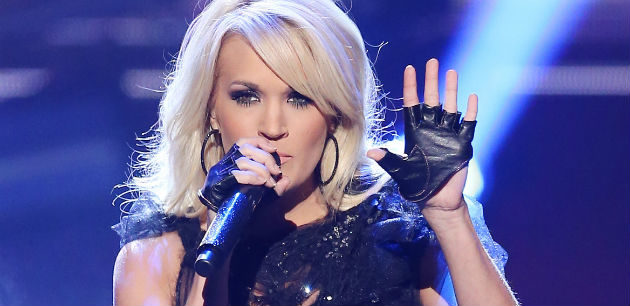 Carrie Underwood may be a talented, Grammy-winning (heck, everything-winning) country music superstar and the perky, blonde success story that justifies American Idol's iron grip on pop culture — but can she make the hills come alive as Maria von Trapp in NBC's Sound of Music?

That's what Chicago & Hairspray producers Craig Zadan and Neil Meron must believe, because the pair (who are also producing the upcoming Oscars telecast) aren't just tapping the reigning Queen of Country to fill Julie Andrews' iconic clogs, they're also taking the ballsy step of doing it in a live broadcast.
A live broadcast: That rare beast so prevalent in the early days of television when performers didn't need auto-tune and could pull off the highwire act of beaming their performance into millions of homes as it happened, flubs and all.
"Speaking for everyone at NBC, we couldn't be happier to have the gifted Carrie Underwood take up the mantle of the great Maria von Trapp," said NBC Entertainment chairman Robert Greenblatt (via THR). "She was an iconic woman who will now be played by an iconic artist."
Maybe it's the shock of hearing that anyone would dare remake one of the greatest musicals of all time — or that Underwood, who's certainly built an empire for herself cobbled together from platinum-selling albums and songs about keying her boyfriend's car and guest appearances on How I Met Your Mother, has the hubris to say, Yes, I can be the Julie freaking Andrews of a new generation — but Underwood as the wide-eyed nun fleeing Nazis in the Swiss Alps doesn't quite compute.
Carrie Underwood as Maria von Trapp sounds about as right as Nick Jonas as Marius in Les Miserables. (Then again, Zadan and Meron cast Jonas as a Broadway superstar on NBC's Smash, so... yeah.)
[Watch Underwood perform "The Sound of Music" on CBS, h/t @gerradhall.]
What do you think of Underwood as Maria, and NBC's holiday live-broadcast remake of The Sound of Music? Sound off below, my little lonely goatherds?
[THR]
Follow Jen Yamato on Twitter.
Follow Movieline on Twitter.