Christopher Nolan Talks Batman Trilogy, Heath Ledger & 'Man Of Steel'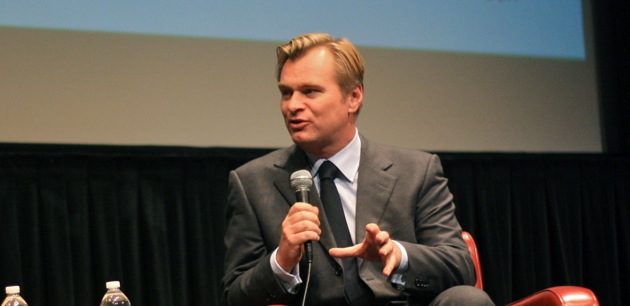 Photo by Belem Destefani
Christopher Nolan's Batman trilogy has amassed nearly $2.4 billion theatrically worldwide to date, but Wednesday night, the Oscar-nominated filmmaker (Memento, Inception) sat down at the Film Society of Lincoln Center giving insight on the nuts and bolts of the series, which ended this summer with The Dark Knight Rises, its classic Bond-esque treatment of terrorism, the late Heath Ledger, and the upcoming Man of Steel.

Bat-Beginnings and Evolution
Nolan recalled his foray into Batman via the '60s Adam West television series growing up. He'd, of course, later take on the legendary comic superhero, but not without precedent. The DC Comics figure has taken on various manifestations on the big and small screens, including versions by Joel Schumacher and Tim Burton. But Nolan figured out he had a different take on Batman — something closer to the comics.
"If you look at what Tim Burton did, it's very specific world created with a Gothic vision that's consistent with Batman," Nolan said at the Walter Reade Theater in a conversation moderated by outgoing Film Society programmer/critic Scott Foundas. "But, what I felt I hadn't seen was [what I observed] in the comics which was Gotham as an ordinary world — a place in which we could live. And so, when Gotham sees Batman he's as extraordinary as he would be in our world. What Tim did is place an extraordinary character in an extraordinary world."
Nolan said he wanted to break down Batman and attempt to explain the trappings and elements that create the figure in his re-telling of the story. "Part of the fun making the film for me was explaining these elements in real terms. Why is he wearing this costume? What does it mean? How does he get the costume? Is it just him and Alfred and the Batcave…? So there was this terrific gap in pop culture history that we got to contribute to and it was great."
Though Nolan made reference to the original comic book version of Batman, he was quick to add that he didn't consider himself a comic-book junkie, acknowledging that treading into that realm can cause a serious rebuke from die-hards.
"It's dangerous to pretend you're a comic book fan among a certain crowd because they spot you very early," he said.
Terrorism And The Dark Knight
Foundas likened 2005's Batman Begins to the '60s-era Bond films as a product of its age. The first in the trilogy came in the immediate post 9/11 period with terrorism at the forefront of the national — and even international — consciousness. Nolan snapped up the compliment being associated with something 'Bond' but then gave his interpretation of how the period affected his first installment of Batman.
"The Bond films were very specific about the time and [reflected] the time of the Cuban Missile Crisis etc. It was very edgy for the time," said Nolan. "I think that one of the things about taking on an action film set in a great American city [that's also] set post-9/11 is that there was no way we weren't going to [address terrorism] if we were going to be honest."
"It's tricky to talk about terrorism. I felt a responsibility as a filmmaker to create something that is foremost as entertainment," he said. "But after there's some distance, I also feel a responsibility even as an entertainer to be honest about my feelings and honest about my [concerns].
Heath Ledger
Tickets to the Christopher Nolan event, which included clips from all three films interspersed with the onstage conversation were snapped-up fast. The 270-seat Walter Reade Theater could have easily been filled two times or more. A waiting list numbered in the hundreds, noted an insider. Still, the atmosphere inside could probably be best described as riveted more than ecstatic. Nolan spoke in a subdued tone throughout the event, though some of the biggest emotional responses came when he spoke about Heath Ledger.
In his second to last theatrical release, Ledger won a Best Supporting Actor Academy Award posthumously for his portrayal of the Joker in Nolan's follow-up The Dark Knight. Well before shooting and even before there was a script, Ledger was cast as the villain, though he had initial trepidation about being in Batman.
"We casted him before the script was even written, so he had a very long time to obsess over what he was going to do. I sent him some materials like A Clockwork Orange and other touchstones like paintings from Francis Bacon."
After Ledger finally received the script, it was Nolan's turn to feel fear. By the time he received it, Ledger had already spent a lot of time developing the personality behind what would be one of his finest performances, though "becoming the Joker" did not come instantly. Still, he aced it and Nolan likened the late actor to the likes of Buster Keaton and Charlie Chaplin.
"When I finally sent him the script it was very scary, because by this time he was so committed and knew what a high wire act it would be, and if he hadn't liked it I think it would have been extremely bad for us both," said Nolan. "But he breathed a sigh of relief and I breathed a sigh of relief, and he really felt it delivered what we talked about."
"Like a lot of artists, he would sneak up on something. You couldn't really sit him down and say, 'OK, today you're going to do the Joker.' You'd have to say, 'Let's read this scene, and act it,' and he'd read it with Christian [Bale] and there would be a line or two where you heard him doing something with his voice that was a little different, or he'd throw in a little bit of a laugh, but meanwhile never saying, 'OK, this is it!'"
Next: Nolan on his Tarantino-esque stable of actors and producing Man of Steel
Pages: 1 2