Christopher Nolan Talks Batman Trilogy, Heath Ledger & 'Man Of Steel'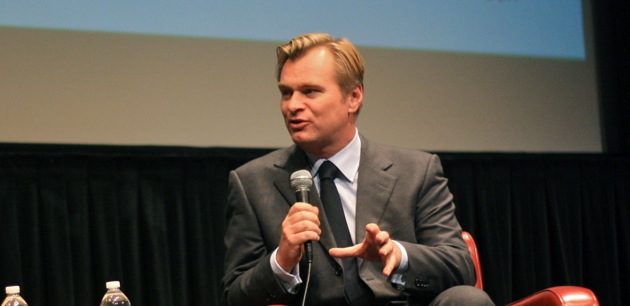 Christopher Nolan, Quentin Tarantino and Their Actors
Foundas observed that similar to Tarantino, Christopher Nolan has taken on veteran actors who had "fallen off the Hollywood Radar" throughout his filmmaking career. He's also sought to match up older talents with newcomers and he is perfectly fine if it scares them. He hinted that older males are also sidelined by Hollywood.
"These guys are incredible actors who are undervalued in an industry where the protagonist in every script that you read, or indeed write, is a 35-year old white male. So there's this huge pool of talent," said Nolan. "It's great putting them with the younger actors who are terrified of them because they had grown up watching their work. It was quite fun thing to do putting Tom Hardy with Tom Berenger in Inception because he was such a fan of his. It also just gives the film more life and gives it more credibility…"
Nolan has also "recycled" his actors in various projects: Michael Caine appeared in The Prestige along with Christian Bale. Marion Cotillard and Ken Watanabe both appeared in Inception. Nolan, however, said he does not create characters to fit actors, one exception aside.
"I try not to write with actors in mind when I write because I think that limits the character. But I will confess I did write with Morgan Freeman in mind for [the character] Lucius Fox in The Dark Knight," said Nolan. "But when you work with talented people, you do want to keep that. You start to notice what performers can do and there's a sense of disappointment that you can't give them more. You get to the last day and you think, Catwoman (Anne Hathaway) was so great, and you want to give them something else to do…"
Producing Man Of Steel
The night closed out with a tease of one of Nolan's post-Batman pursuits, producing the Zack Snyder-directed Superman feature, Man of Steel, which is set for next year. Not surprisingly, he kept any insight to a bare minimum, but offered up: "Producing is a lot easier than directing — in fact, I'm producing even as we speak..." Nolan said audiences will see a "fresh take" on Superman and gave kudos to Snyder.
"It's pretty amazing what [Zack Snyder] has taken on and I think people are going to be thrilled. There's a lot of finishing to do, there's a lot of complexity going on, but I think that it will be thrilling."
Follow Brian Brooks on Twitter.
Follow Movieline on Twitter.
Pages: 1 2