What If Vince Vaughn And Zooey Deschanel Starred In 'Silver Linings Playbook'?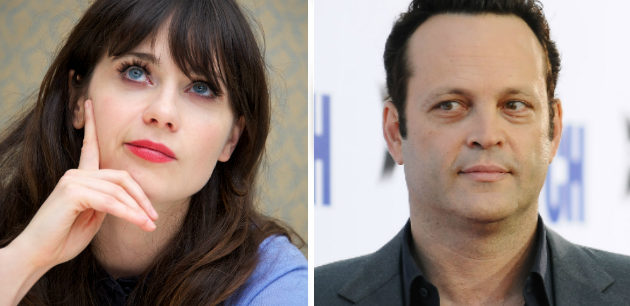 There's nothing like a good bit of alternate "What if?" casting to make you appreciate a movie whose stars' chemistry works, so picture what might have been if David O. Russell had made his Oscar contender Silver Linings Playbook a few years back... with Vince Vaughn and Zooey Deschanel.

"I wrote this five years ago and I rewrote it 20 times," Russell told The Huffington Post. "And I thought I was going to make it with Vince Vaughn and Zooey Deschanel before The Fighter. And then it didn't happen, for any number of reasons that were out of my hands."
Head here to read the full Silver Linings chat, in which Russell big ups stars Bradley Cooper and Jennifer Lawrence and offers little hope that we'll ever see the infamously stalled Nailed.
Meanwhile, as awards pundit Anne Thompson notes, Silver Linings is flagging in the crowded Oscar race after enjoying a burst of momentum in previous weeks. Maybe a celebrity endorsement from Oscar-winner Charlize Theron will help? Here's Theron waxing enthusiastic over Lawrence in EW's Entertainers of the Year cover story:
"How is it that she can just stand there, not saying a word, and make us feel so much? Her talent is undeniable, and she is a force to be reckoned with."
Theron should know; she starred as the older version of a pre-fame, pre-Hunger Games Lawrence (or vice versa — Lawrence starred as the young Theron, opposite Revolution's J.D. Pardo) in 2008's The Burning Plain.
[Huffington Post, EW, Thompson on Hollywood]