High And Low: Yule Have A Blue Christmas With Desplechin & Deneuve, A Shticky One With Ernest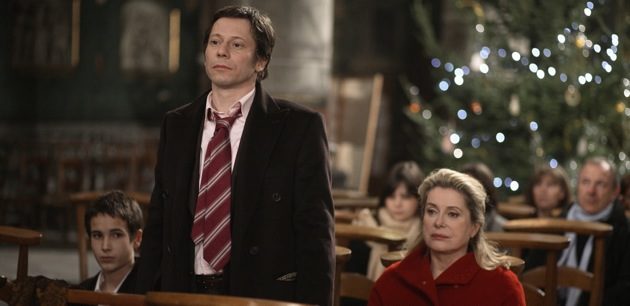 With the post-Thanksgiving and post–Black Friday hangover still lingering, it's a pretty slow week for new DVD releases. Since we're entering the Christmas season, however, there's no better time to find Highs and Lows among holiday films (while also sneakily reminding you of my film guide Have Yourself a Movie Little Christmas, which makes a great stocking stuffer). So if you're feeling worldly, spend Noel with some extremely unhappy French folks. Otherwise, pop some Ro-Tel and Velveeta in the crock pot and enjoy the holiday hi-jinks of America's favorite rubber-faced redneck.
HIGH: A Christmas Tale (The Criterion Collection; DVD/Blu-Ray, $39.95)
WHO'S RESPONSIBLE: Written by Arnaud Desplechin and Emmanuel Bourdieu; directed by Desplechin; starring Catherine Deneuve, Mathieu Amalric, Anne Consigny, Melvil Poupaud, Chiara Mastroianni.
WHAT'S IT ALL ABOUT: Matriarch Junon (Deneuve) needs a bone marrow transplant, and while this is usually a procedure where parents donate to children, Junon figures that she gave her kids life and now it's time for them to repay the debt. The search for a donor means that black-sheep son Henri (Amalric) is coming home for Christmas for the first time in years, where he clashes with sister Elizabeth (Consigny), who essentially had him banished from the family for his shady financial machinations.
WHY IT'S SCHMANCY: The "mommy dies at Christmas" genre is an ever-more-crowded one, but there's no easy sentimentality from Desplechin. Junon is haughty and prickly — her barbed exchanges with Henri are classic — and this family tapestry is woven with such care and intelligence that you may find your allegiances shifting from viewing to viewing. I also admire a movie that casually drops cultural references to everything from Nietzsche to Cecil B. DeMille's The Ten Commandments.
WHY YOU SHOULD BUY IT: This 2008 import (original title: Un conte de Noël) has become one of my annual screening rituals. It's funny, moving, thought-provoking and endlessly fascinating. And since this is a Criterion release, there are some great extras, including L'aimee, a short film by Desplechin (in which he and his father go through their old family home) that inspired the feature.
LOW: Ernest Saves Christmas (Touchstone Home Entertainment; DVD $9.99)
WHO'S RESPONSIBLE: Written by B. Kline and Ed Turner; directed by John Cherry; starring Jim Varney, Douglas Seale, Oliver Clark, Noelle Parker.
WHAT IT'S ALL ABOUT: Cab driver Ernest P. Worrell (Varney) gets involved when Santa (Seale) travels to Orlando to hand the keys to his workshop over to kids-show host Joe Carruthers (Clark) — who thinks the old man is a lunatic. Besides, Joe's more concerned about making the leap to the big screen, even though what he thinks is a family film called Santa's Sleigh winds up being something far darker. Can Ernest and plucky orphan Harmony (Parker) appeal to Joe's better nature and save the holiday?
WHY IT'S FUN: From local TV spots to stardom on the big and small screens, the character of Ernest is something of an acquired taste. But it's hard not to be won over by Ernest Saves Christmas, which features some of Varney's most inspired shtick, from destroying the always-unseen Vern's house to dressing in drag as the mother of Joe's agent. There are also appearances by legendary comic second bananas Bille Bird and Gailard Sartain. Before you scoff too much, see the movie.
WHY YOU SHOULD BUY IT: Hey, Disney! What's with Ernest Scared Stupid getting a Blu-Ray release and not Ernest Saves Christmas? Someone at the Mouse House should be getting coal in their stocking for this one.
Alonso Duralde has written about film for Salon and MSNBC.com. He also co-hosts the Linoleum Knife podcast and regularly appears on What the Flick?! (The Young Turks Network).  He is a senior programmer for the Outfest Film Festival in Los Angeles and a pre-screener for the Sundance Film Festival. He also the author of two books: Have Yourself a Movie Little Christmas (Limelight Editions) and 101 Must-See Movies for Gay Men (Advocate Books).
Follow Alonso Duralde on Twitter.
Follow Movieline on Twitter.