Who Are Today's Most Valuable Indie Stars?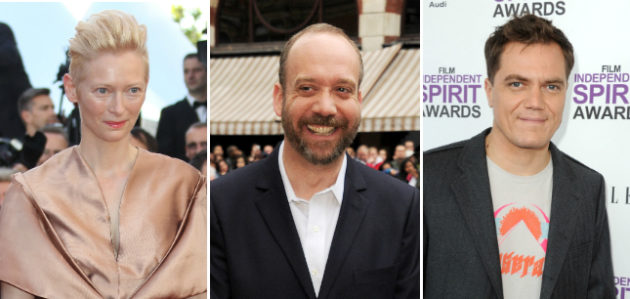 If you thought you were getting any work done during the second part of the day, think again. The good people at Vulture have apparently teamed up with the RAND Corporation and NASA to devise a series of charts with endless permutations that rank today's most valuable movie stars. But, we ask: Who are today's Most Valuable Indie Stars?

How does one determine who is most valuable? Vulture is more than willing to pull back the curtain on their methodology. (Oh, if only the folks at Diebold could learn a thing or two from celeb-obsessed journalists!) They may have their nifty algorithms, but we've got our gut instincts. Using those and those only, we'd like to devise a highly unscientific list of the most valuable indie actors working today.
6. Michael Shannon
He's got many more credits than you might think (Kangaroo Jack!) but he first came to our attention as an unusual leading man in Jeff Nichols' Shotgun Stories. His turn in Werner Herzog's My Son, My Son, What Have Ye Done? secured him a lifetime of indie cred, and this was before Boardwalk Empire and Take Shelter. By my algorithm, he can appear in Man of Steel and two sequels and still be considered an indie star.
5. Mathieu Amalric
It isn't crazy to call this French import a next gen Steve Buscemi. Amalric's worked with a number of top level international directors like Julian Schnabel, Alain Resnais and Arnaud Desplechin. When he works in Hollywood it's in top tier material like Munich and Quantum of Solace, which, you must remember, looked like it was going to be good on paper.
4. Michelle Williams
From Dawson's Creek to Synechdoche, NY, Michelle Williams is such a beloved indie star we'll put up with her breaking our hearts (Blue Valentine), forgive her, then let her do it again (Take This Waltz.) No trip to the Park Slope Food Co-op is complete without thinking you see her in the loose tea aisle.
3. Michael Fassbender
From his indistinguishable accent to the phallic puns about his last name, it's impossible not to give this guy a high ranking. I was hesitant to see Hunger because we'd already seen the Bobby Sands story in Some Mother's Son, but when I realized it was one of the shirtless dudes from 300 we got curious. Since then he's put in remarkable turns in Inglourious Basterds, A Dangerous Method, Jane Eyre and Haywire. Even when he does a major studio picture it is with an provocateur in the director's chair like Matthew Vaughn or Ridley Scott. Fassbender is one of the few actors out there that elite moviegoers will follow from project-to-project indiscriminately.
2. Tilda Swinton
...and in that regard, he's right alongside Tilda Swinton. Who else out there has punk rock cred from her early Derek Jarman years and is also the descendant of medieval landed gentry? From the films of the Coen Brothers to Jim Jarmusch to Lynne Ramsay to Wes Anderson to oddball gems like Julia and I Am Love, Swinton strikes me as someone who doesn't need to work, to the point that she's very selective about what she does. As such, anything she's involved in is very much worth your time.
1. Paul Giamatti
If you've missed Michelle Williams in Brooklyn, maybe you've seen Paulie G around. A gifted comic, and uncannily sympathetic, Giamatti brings a level of excellence to everything he does. Barney's Version is, I hate to say it, not a good movie. Yet Giamatti's performance made me literally laugh and cry – oftentimes in the same moment. What's more, Giamatti is quick to use his Hollywood clout to champion far-flung indie films, which was made abundantly clear during this year's Sundance with the ultra-niche John Dies at the End.
Those are our indie-world MVPs. Have more to add? Make your case below!