Lincoln Gets Presidential Screening; Breaking Dawn Part 2 Cashes In Overseas: Biz Break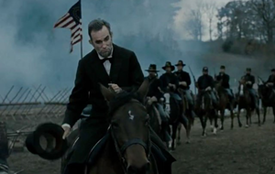 Thursday's early look at five top news stories also include a new indie project for Sylvester Stallone. Also, strong Oscar contender Silver Linings Playbook changes release strategy and an AFI Fest winner is heading to U.S. theaters.

Obama to Host Lincoln Screening at White House
The President will hist stars Daniel Day-Lewis, Sally Field, Gloria Reuben, Tommy Lee Jones and Steven Spielberg as well as DreamWorks co-chairman and CEO Stacey Snider and producer Kathleen Kennedy at a screening of the film about the 16th U.S. leader at the presidential mansion Thursday night. Spieldberg was a big Obama donor in the recent election, THR reports.
Breaking Dawn Part 2 Smashes Records Overseas
Three out of four markets abroad have broken franchise attendance records. The finale will overtake Breaking Dawn Part 1's $428.6 million international total and exceed $709.9 million, Deadline reports.
Sylvester Stallone Boards Reach Me
The indie drama is written and directed by his Cobra co-star John Herzfeld. The story follows a group of people who all have a connection to a self-help book authored by a reclusive former football coach. Stallone's role is keeping kept quiet, Variety reports.
Silver Linings Playbook Shifts to Platform Rollout
It is one of the most anticipated of the upcoming Oscar contenders that was expected to open wide. But distributor The Weinstein Company has shifted the release for Bradley Cooper, Robert DeNiro and Jennifer Lawrence starrer Silver Linings Playbook to a limited release in 16 theaters this weekend, followed by an expansion to 440 theaters over Thanksgiving with an eventual wide 2000-plus release after New Years. It's in line with previous awards contenders the company has opened in the past, Deadline reports.
AFI Fest Winner Hijacking Heads to U.S. Theaters
The Venice and Toronto debut won the Audience Award in the New Auteurs program at AFI Fest last week. The film focuses on the human consequences of modern piracy and takes its starting point when the cargo ship MV Rozen is captured by Somali pirates. Amongst the men on board are the ship's cook Mikkel and the engineer Jan, who along with the rest of the seamen are taken hostage in a cynical game of life and death. Magnolia Pictures, which picked up North American rights to the film is planning a second quarter 2013 release.