WATCH: R. Kelly Gets Personal In 'Trapped In The Closet' Behind The Scenes (Plus: New Photos!)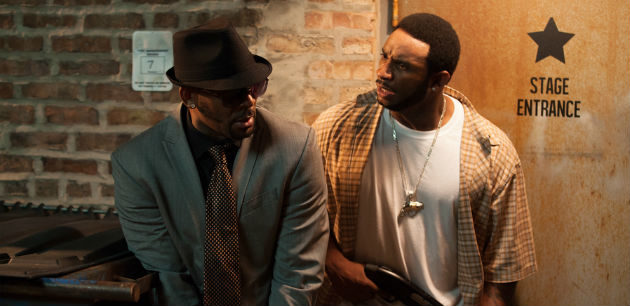 R. Kelly is taking his multi-chapter, possibly never-ending R&B hip-hopera, Trapped in the Closet, so super-seriously; the least we can do is return the deliciously campy favor. Watch R. Kelly transform - via prosthetics and a fat suit - into "Randolph," a la Tyler Perry, in a new behind-the-scenes look at Trapped in the Closet, which hits the airwaves on November 23 on IFC.
R.Kellys' Midgets, Pimps, Cheating Lovers, etc. Are His Madeas
It's while watching R. Kelly talk seriously about modeling the character of Randolph on the men in his life, while getting fake old man cheeks applied over his stubble in this making-of video, that it hit me: Trapped In The Closet's multitude of ex-cons, down-low lovers, pimps, midgets, and secret twins are his Madeas.
"I felt like I wanted to do these characters, because I felt personal, I felt like I know these guys," he says. "These guys were friends of mine, or uncles of mine, or my grandfather, and I wanted to steal the spirit of those people."
Where & When to Watch the Next Installment of Trapped in the Closet
Trapped in the Closet returns to IFC with a Thanksgiving day marathon to catch you up on all 22 previous chapters before Chapter 23 hits on Friday, November 23 at 9pm PT/ET.
Created, written by, and starring R. Kelly as multiple cast members, Trapped in the Closet continues its ongoing saga with the return of Sylvester, Rufus, Cathy, Tina, Roxanne, Randolph, Rosie the Nosy Neighbor, Reverend Moseley, Twan and Pimp Lucius. A cast of characters interconnected by sexual exploits, quarreling lovers and a mysterious package.

Two new faces join this next installment, both played by R. Kelly: Dr. Perry, a therapist at Rufus and Cathy's church guiding them through marriage counseling; and Beeno, a powerful underworld kingpin. The new chapters continue to take on a life of their own with more suspense, mystery, drama and unexpected twists.
Watch the Trapped in the Closet Behind-the-Scenes Video:

NEW Characters in the NEW Trapped in the Closet
What's that? NEW characters are joining the Trapped in the Closet saga? How many personalities are there living within the R&B master crooner?
Click here or below on R. Kelly's new character — a marriage therapist named Dr. Perry — for more new images from Trapped in the Closet.
[IFC]
Follow Jen Yamato on Twitter.
Follow Movieline on Twitter.