Thirty Seconds To Mars' Echelon Flock To New York For 'Artifact' Premiere, And Jared Leto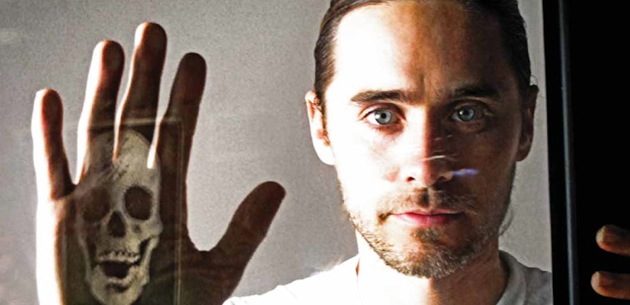 Fans of Jared Leto's band Thirty Seconds to Mars like to refer to themselves as family, but 'apostles' might be a better term.  Thanks to their fervent support, Artifact, the Leto-directed (under the pseudonym Bartholomew Cubbins)  film about the band's lengthy legal battle with its record label EMI, is making some noise on the indie circuit.
In September, Artifact won the Toronto International Film Festival's People's Choice Documentary Award in September, and earlier this month it was nominated for an IFP Gotham Audience Award even though the film didn't premiere in the U.S. until Thursday night at the DOC NYC festival in New York City.
The Echelon — the name that Leto has bestowed upon his band's fan base — were out in force there, too, braving frigid temperatures and a Nor'Easter-snarled New York to gather by the dozens at the School of Visual Arts in Chelsea for the screening and a glimpse of their idol.  A spokeswoman for DOC NYC says that more than 500 people attended the two screenings of the documentary that were held on Thursday.
Instead of the screaming hordes you might battle at a Justin Bieber appearance, however, the mostly female and surprisingly middle-aged crowd that gathered at the 6 p.m. screening of Artifact was well behaved and fairly quiet when it came to their reverence. (Somehow, they'd even organized a canned-food drive with local charity City Harvest to help the victims of Hurricane Sandy.)
Photographer Jolene McMeans had traveled from Eugene, Ore. to see the film.  "I barely made it last night," she told Movieline. Johana Ruano, who sat next to her and carried a bouquet of flowers, said that she had made it in from Miami despite having her first flight canceled Wednesday night due to the storm.
DOC NYC Artistic Director Thom Powers told the crowd that Leto's initial flight to New York had been canceled, too, but he had also found a way to the city and the Echelon gave him an enthusiastic welcome as he walked to the front of the theater dressed in black and wearing a hipster trapper's hat.
"I know half the people in this room," he said, after which a male voice in the crowd shouted, "I love you."
"I love you, too!" Leto replied.
The Thirty Seconds to Mars frontman was in the process of explaining that Artifact was a "really personal" film and a "labor of love" when he was interrupted by a mewling sound from the audience.
"Is that a cat?" he asked. (Actually, it was a young child that one of the audience members had brought with her.)
The actor and musical artist returned to describing Artifact: "It's a film about a battle. It's a film about an album. It's a film about our lives," Leto said.
Artifact is also a film in need of an editor, but it does shine a sobering light on the vagaries of the major-label music business, which, the film's participants point out, for instance, continues to charge bands de-rigeur breakage fees for records that are digitally downloaded. And that's just one of the minor details. Although the band decided to stay with EMI after the lawsuit was dropped and the band was given a more favorable contract, the film claims that, despite selling millions of albums, Thirty Seconds to Mars has not made any money on the sale of those recordings.
And what did the Echelon think? Though Leto did not return at the end of the screening, they stood to give the movie an extended standing ovation.
On my way out of the theater, I asked Johana and Jolene why they were so loyal to Leto and Thirty Seconds to Mars.
"He involves you. He answers your tweets," said McMeans.
"He makes us part of the band as well," said Ruano.
Follow Frank DiGiacomo on Twitter. 
Follow Movieline on Twitter.