Gibney, Garbus, Polley and Leto (Yes, Jared!): 10 Toronto Film Festival Documentaries We're Keen To See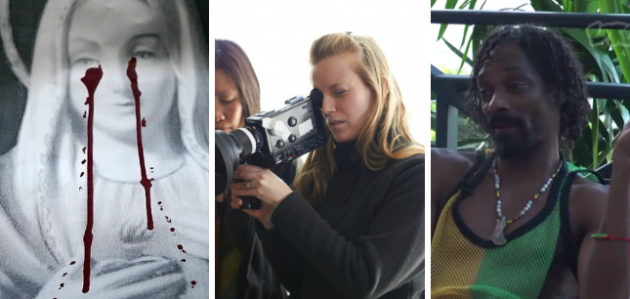 If, like me, you've been lamenting the steady bleed of thoughtful, investigative journalism from newspapers and magazines, the Toronto International Film Festival offers hope via visual media.  Scanning the list of documentaries that the festival will be screening, the subject — and the fresh, innovative ways in which the filmmakers are tackling them — calls to mind the original, smart, and, often, great journalism that came from the pages of Harold Hayes' Esquire magazine in the 1960s and early'70s, arguably, the gold standard of 20th Century magazine writing.  And here are the 10 docs that will have my undivided attention here in Toronto. Now I just have to find the time to see them.
1. Stories We Tell, Sarah Polley:  Initial reports are that the wise-beyond-her-33-years actress and filmmaker has made a stunning auto-documentary by becoming, as she puts it, "a detective in my own life." Polley — the daughter of the late actress and casting director Diane MacMillan Polley, who died when Sarah was 11, and British actor-turned-insurance-agent Michael Polley — delves into her murky family history to separate fact from fiction. I hear that the answers she unearths resonate like a punch in the gut.
2. Love, Marilyn, Liz Garbus: The enduring perception of Marilyn Monroe as a "Candle in the Wind" to use the title of Elton John's exquisite song, gets an overhaul in Garbus' close-up of the actress and sex symbol. The Bobby Fischer Against the World filmmaker uses an ensemble of actresses — including Marisa Tomei, Viola Davis, Ellen Burstyn, Evan Rachel Wood and contemporary trouble doll Lindsay Lohan — to give voice to Monroe's never-before-seen personal papers, diaries and letters which reveal her to be a fiercely ambitious steel magnolia with a poet's soul.
3. The Gatekeepers, Dror Moreh: The buzz has been building on this documentary since it debuted on the festival circuit in Jerusalem in July and, according to a couple of sources who've seen it, The Gatekeepers is an eye-opening look at the real costs of the Palestine-Israeli conflict told through the unprecedented first-person accounts of six former Shin Bet (Israeli Security Agency) leaders. Word is the film is unflinching, hair-raising and, all the more powerful, because it humanizes the agents who did their government's dirty work in the interest of homeland security. (Sound familiar?)  As former Shin Bet chief Avraham Shalom says in the film: "In the war against terror...forget about morality."
4. The Act of Killing, Joshua Oppenheimer, Christine Cynn: That documentary masters Errol Morris and Werner Herzog came aboard as executive producers after seeing this film in various stages of completion should tell you that this is no ordinary documentary. But wait until to you hear its cinematic conceit: Oppenheimer and Cynn filmed Indonesian paramilitary leader Anwar Congo and his cohort — who participated in the murder of more than a million alleged Communists, ethnic Chinese and intellectuals in the 1960s — proudly and chillingly reenacting some of their murders in the style of their favorite movies: westerns, musicals and film noir. This should give new life to the debate over violence in the movies sparked by the Aurora tragedy in July.
5. Reincarnated, Andrew Capper: Capper, the global editor for Vice magazine, chose a compelling subject for his first feature-length documentary: the evolution of pot-loving rapper Snoop Dogg to pot-loving Rastafarian Snoop Lion during a trip to Jamaica to record with the DJ named Diplo. Whether Snoop is merely trying on a new career-rejuvenating persona the way that David Bowie did (multiple times) in the 1970s, or looking for a more spiritual reason to inhale a buttload of chronic, the musical artist born Calvin Broadus has a playful-but-knowing charisma that I bet will play well on camera. I think he's ready for his close-up.
6. Mea Maxima Culpa: Silence in the House of God, Alex Gibney: The Taxi to the Dark Side director takes on another powder-keg subject — sexual abuse in the Catholic church — and I hear that fireworks ensue. Gibney begins with the headlines-making case of Father Lawrence Murphy, who beginning in the 1950s, is believed to have molested as many as 200 boys at the St. John's School for the Deaf in St. Francis, Wisconsin. Although the Vatican was made aware of the priest's actions in 1963, he was never defrocked and, in fact, was allowed to remain at the school until 1974 (when he was transferred). Mea Maxima Culpa, which translates to "My Most Grievous Fault," takes Gibney all the way to the Vatican where he scrutinizes the roles that the late Pope John Paul II and his successor Pope Benedict XVI (then Cardinal Joseph Ratzinger) played in this tragic tale.
7. Artifact, Bartholomew Cubbins:  Based on the coy picture I found on the Toronto Film Festival's website,  the Dr. Seuss-monikered director of this film is actually also its subject: actor and Platinum-selling 30 Seconds to Mars front man Jared Leto. (He has used the pseudonym before.)  Since Leto has, so far, defied my predictions that he would be a musical flash in the pan, I'm eager to see whether he can cut it as a filmmaker.  (I like his acting, but let's say I'm skeptical that he can direct.)  Artifact is about Leto and his band battling their record label Virgin/EMI in court while writing songs for a new album and, according to the TIFF synopsis, "struggling with big questions over art, money and integrity."  I suspect that droves of pretty young things will want to see this documentary, too, albeit for different reasons.
8. How to Make Money Selling Drugs, Matthew Cooke: With candid assists from Eminem, 50 Cent, Susan Sarandon and other celebrities, Cooke's directorial debut is getting good word-of-mouth for its satirical Trainspotting-meets-Casino approach to a subject that makes most people's eyes glaze over: the United States' ineffectual drug policy. Cooke even employs a video game within the film to make his point. Donkey Bong?
9. First Comes Love, Nina Davenport: Another auto-doc that taps into the, um, ripe subject of single motherhood as a choice. Unattached at the age of 41, Davenport decided to have a baby on her own — in New York City, no less — and to film the process. I'm hoping that it's a candid corrective to The Back-Up Plan.
10. The Central Park Five, Ken Burns, Sarah Burns, David McMahon:
I'm not a dedicated fan of Burns. His PBS Jazz documentary series irritated me, but I get why this particular project, which has been acquired by Sundance Select for distribution, is generating buzz. The subject of this collaborative effort with his daughter Sarah (who wrote a 2011 book about the Central Park Five) and son-in-law, McMahon, speaks volumes about race, crime and politics in New York City. In 1989, five black and Latino teenagers from Harlem were arrested and later convicted of raping a white woman in New York City's Central Park. They spent between 6 and 13 years in prison before a serial rapist confessed that he alone had committed the crime, leading to their convictions being overturned.
For more from Movieline at the Toronto Film Fest, click here.
Follow Frank DiGiacomo on Twitter.
Follow Movieline on Twitter.