Daniel Day-Lewis Hesitant To Play Abraham Lincoln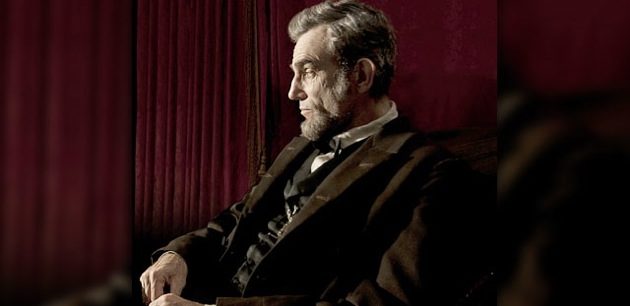 Actor Daniel Day-Lewis was reticent playing U.S. President Abraham Lincoln in the now much anticipated film that opens this weekend beginning in limited release and heads out wide the following week. But after a long build-up before actually taking on the 16th U.S. leader, he reflected that he now feels "nourished" by the role and hopes Lincoln will "stay with him forever."

Both Day-Lewis and director Steven Spielberg made their only joint television appearance on ABC, which airs Friday evening on World News with Diane Sawyer and Nightline.
"This seemed like such an important thing," said U.K.-born Day-Lewis. "The last thing I wanted to do was to desecrate the memory of the most dearly loved president of this country."
Day-Lewis said that he became familiar with Lincoln while studying up on the Civil War and Spielberg recalled going to Washington, D.C. as a youth.
"I think it might have been from the cards that you got with bubble gum," Day-Lewis said. "That was a huge currency at the school where I was and there was a big series on the Civil War. ... We were constantly swapping cards back and forth to try to get the completed set."
Added Spielberg: "All I saw was a giant. I never forgot that experience. ... I felt he was looking directly at me."
Spielberg added that the found the idea of making Lincoln daunting, but said that Doris Kerns-Goodwin's Team of Rivals shed light on a part of the President he had hoped to discover.
"He was awkward to look at. His voice didn't fit his stature, and he would just disarm a room with just a crazy story that had no relevance to the issue of why they were in the room to begin with," he said. "There were so many odd, strange things about Abraham Lincoln that I think nobody knew how to pigeonhole him."
Spielberg said he had considered fully chronicling Lincoln's life, but decided to narrow this portrait of him to the period when he struggled to pass the 13th Amendment to the U.S. Constitution which formally abolished slavery.
"We didn't have the real estate to really give an accurate Lincoln portrait," he told ABC News. "It would have been like a greatest-hits album. You know, all those moments you read about in class -- two minutes for that, five minutes for the Gettysburg Address, let's do a little montage of the debates. I realized we had to take a position, our position, and get on with it. ... I will certainly carry this with me."
Tommy Lee Jones Clip in Lincoln follows:
Official Log-line:
Steven Spielberg directs two-time Academy Award® winner Daniel Day-Lewis in "Lincoln," a revealing drama that focuses on the 16th President's tumultuous final months in office. In a nation divided by war and the strong winds of change, Lincoln pursues a course of action designed to end the war, unite the country and abolish slavery. With the moral courage and fierce determination to succeed, his choices during this critical moment will change the fate of generations to come.
Watch the video on YouTube
[Source: ABC News]