Daniel Craig Hints At 007 Exit, While Javier Bardem Turned Down Bond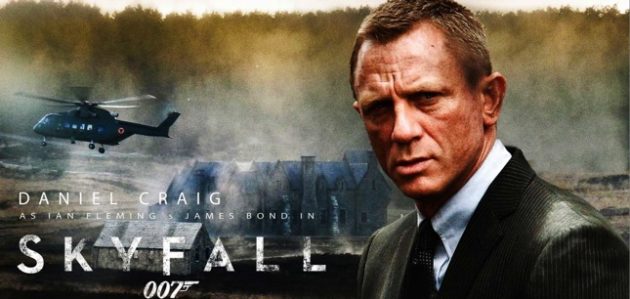 Ahead of Skyfall's theatrical roll out last month in the U.K. and this week's release in the U.S., Bond star Daniel Craig has said he's committed to two more 007 movies. But in a recent interview, Craig let on that he is holding out the possibility of departing the role as the debonair British operative. The film screened last night to packed crowds in NYC and L.A. The "Secret Screening" of the latest Bond packed Grauman's Chinese Theater Wednesday night at AFI Fest.
Is Daniel Craig Leaving Bond Behind?
"I've been trying to get out of this from the very moment I got into it," Craig told Rolling Stone. "But they won't let me go, and I've agreed to do a couple more, but let's see how this one does, because business is business and if the shit goes down, I've got a contract that somebody will happily wipe their ass with."
[Related: 'Skyfall' Premiere Gallery - 007 Mingles With Royalty On The Red Carpet]
It is not quite clear whether his descriptives were said ahead of Skyfall's theatrical release in the U.K. and other territories. The latest installment is one of the most successful in the 50 year-old franchise. The Sam Mendes-directed film also starring Judi Dench and Javier Bardem is expected to pass the $400 million mark internationally, and that does not include the U.S. where it's tracking to have a robust debut.
Javier Bardem Turned Down 007 Role
Javier Bardem, who is winning accolades for his role in the latest Bond film, playing villain Raoul Silva, told Cinema Blend that he was once offered to play 007, telling the publication, "Years ago, I was. I don't remember what movie it was for. But yeah, it was just not that time. I didn't feel it was the time for me to do something like that. And also, I was doing something else, so I passed. This time, when I read it, I felt that it was very powerful material, and I wanted to join."
Bardem said that he doesn't regret the pass because it gave him a chance to pursue other things, even if some of them weren't always "beautifully executed."
After Daniel Craig, Who Will Be the Next James Bond?
Given the success of Skyfall, it is highly unlikely anyone will - err - foul Craig's contract as 007 for at least two more features. But speculation, nevertheless, ratcheted up a couple weeks ago that Bond's next manifestation may possibly take an ethnic change.
Bond girl Naomie Harris recently hinted at the possible news, saying that the next 007 may be Idris Elba. If so, the star of The Wire and films Prometheus and Thor would become the first non-Caucasian James Bond in his 50 years. Harris hinted that Elba met with Bond producer Barbara Broccoli about the possibility.
Skyfall's Advanced Screenings in New York & L.A.
Skyfall had advanced screenings in L.A. and New York Wednesday night. The film packed in a full-house as AFI Fest's "Secret Screening" at Grauman's Chinese Theater. Rumors swirled that perhaps some of the cast would make an appearance at the screening since they were in town doing press. The red carpet was seen getting a good vacuuming hours ahead of the screening and the AFI Fest Step and Repeat was in place, but as the 9:15 start-time neared, the photo backdrop was covered up and star-watchers were not gathering behind barricades as they've done nightly at the festival ahead of nightly Galas.
They will likely return, however, for Thursday night's Closing Night Gala, Lincoln
[Sources: Rolling Stone, Cinema Blend]