'Skyfall' Eyes Oscar Ambitions As 'Secret Screening' Is Set At AFI Fest Wednesday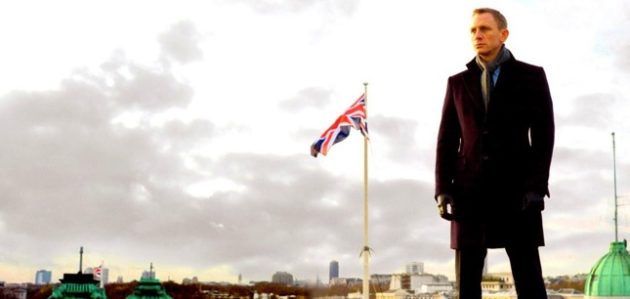 Skyfall is ready to get its L.A. close-up at AFI Fest Wednesday night. The latest James Bond film will have a "Secret Screening" tonight at the festival where free tickets are now available. The film, which has been a box office triumph in the U.K. where it opened in late October, has garnered critical acclaim and the title is even getting some early Oscar buzz - a feat that has eluded 007 over its 50 years.

Directed by Sam Mendes the latest James Bond the latest installment has earned a record-breaking £53.44m ($85.36 million) in just 10 days. This is the first time a film has surpassed the £50m in 10 days in the U.K. And three-time Academy Award-nominated screenwriter John Logan thinks the pic, which opens Friday in the U.S., deserves attention from Oscar.
"I think we made a proper movie, which was our goal," Logan said via BBC. Asked if he thought Skyfall could get an Oscar win, Logan replied, "Yes." Logan, who is rumored to be writing the next two Bond films that will again star Daniel Craig as the dashing British operative, received noms for Gladiator, The Aviator and most recently Hugo.
Judi Dench, who is reprising her role as 007's boss M has been named a potential nominee though she has kept a distance from the awards rumor mill.
"Don't talk about that yet, that's a long way off," she said.
Craig, meanwhile passively acknowledged Oscar at the film's world premiere, saying reluctantly that "of course" he'd be happy to see Skyfall get Academy Award recognition.
"I mean certainly Roger Deakins who did the camera work on this; it would be fantastic if he were to be recognized because he's done such a wonderful job," he said. Of the 23 Bond pics over five decades, only two have picked up Oscars and both were in technical categories. Goldfinger won best sound effects in 1964, while Thunderball took best visual effects in 1965.
"I think we've established, and as have Casino Royale and Quantum of Solace, we've established a tone that is the base line reality of Bond now," said Logan. "So it can't become camp, it can't become grandiose in a bad way at this point, it simply has to be honest to the tone that we've worked so hard to create in Skyfall."
Wednesday night's screening at AFI Fest may be an Awards consideration beginning for the pic, which will likely see huge box office returns if the film's U.K. momentum is any indication.
Tickets are available to tonight's screening on the second floor of the Hollywood & Highland complex at the AFI Fest Box Office. Tonight's screening takes place at 9:15 PT at Grauman's Chinese Theater next to the venue where the annual Oscar ceremony takes place.
[Source: BBC]