WATCH: Snoop Lion Jumps The Bong In His Reggae Music Video Debut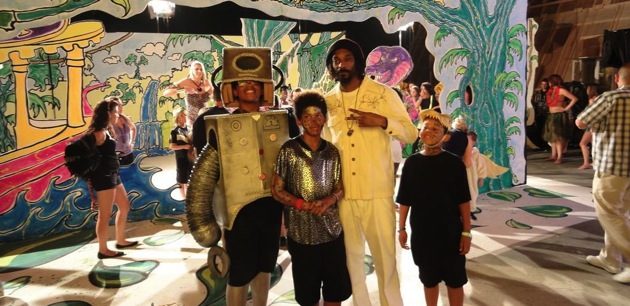 Oddly enough, after being moved by Snoop Lion's Reincarnated documentary at Toronto, I now have to say I agree with the little girl at the beginning of this music video who says she liked him better when he was Snoop Dogg.  I get why Calvin Broadus — Snoop's real name — wanted to put his whole gangsta image behind him, even if it was purely a marketing decision. Artists must evolve.  But with this video for "La LaLa,"  he's jumped the bong by making his bad-ass pot-smoking self a little too kid friendly.
Okay,  you could say that the video is subversive because you have children dancing around in a  smoke-filled video that also shows an animated pineapple sucking on what appears to be a big fat spliff — I bet the boys at Fox News will love that — but the kids-say-the-darnedest-things interviews that appear in the video are annoyingly cute, a word I do not ever want to associate with Snoop.  I do, however, like the scene where Snoop goes into a coffin holding a dog and comes out wearing a Lion headdress.
The rapper-turned-Rastafarian must have been serious when he lamented in Reincarnated that he could not perform at the White House because his hip-hop songs "are too hard."  He can certainly perform "La La La" at the White House if Obama is reelected.
Check out the video below, then compare it to Musical Youth's 1982 hit "Pass The Dutchie" video, which is below.  The songs bear no resemblance musically — "La La La" is as turgid as "Pass The Dutchie" is vibrant — but both songs were sanitized for mass audience appeal. ("Pass the Dutchie" referenced The Mighty Diamonds' "Pass the Kouchie," which was about smoking ganja.
What you think?  Am I being too hard on the Lion?
Follow Frank DiGiacomo on Twitter.
Follow Movieline on Twitter.