Punk Goes Twilight: Here's Green Day's Breaking Dawn Music Video To Make You Feel Old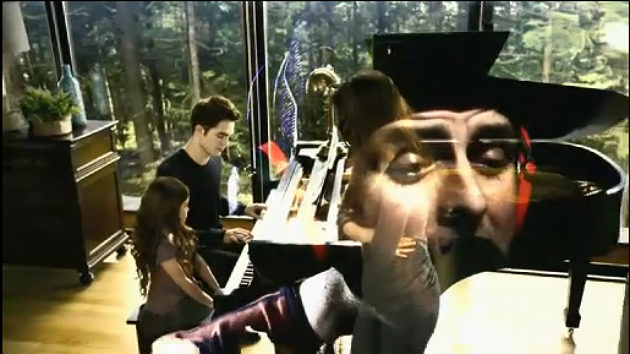 Here's something to add to the pile of things in life that'll make you feel old: Green Day's new music video for "The Forgotten," their single from the Twilight Saga: Breaking Dawn Part 2 soundtrack. You read that right: The punk rockers, who once repped a generation of slackers with songs about masturbating and smoking weed, are now in bed with Twilight.

Not that Green Day's mainstream streak is anything new; they've played to the masses since making it big on MTV in the mid-90s, they have their own Broadway musical, and frontman Billie Joe Armstrong (who recently checked into rehab) just guest-starred on The Voice, any of which would be reasons alone for a revocation of that punk card.
Suffice to say the Green Day that got their start at Berkeley, CA's gloriously dingy 924 Gilman decades ago isn't quite the same Green Day singing about Bella Swan's undead transformation into a vampire as faux-home movies of Edward Cullen playing the piano for his monster baby play in the background. Because that's basically what the music video for "The Forgotten" is. Sample lyric: "Don't look away from the arms of love." On the contrary — look away! Look away!
The Twilight films have historically nabbed pretty great and surprising artists for their soundtracks, so this isn't a stretch for the franchise. It's just, y'know, WHAT HAPPENED TO GREEN DAY? Sigh. Joining Green Day on the Breaking Dawn Part 2 soundtrack are indie faves Passion Pit, St. Vincent, and POP ETC. Full track listing:
Passion Pit, "Where I Come From"
Ellie Goulding, "Bittersweet"
Green Day, "The Forgotten"
Feist, "Fire in the Water"
The Boom Circuits, "Everything and Nothing"
St. Vincent, "The Antidote"
POP ETC, "Speak Up"
Iko, "Heart of Stone"
A Boy and His Kite, "Cover Your Tracks"
James Vincent McMorrow, "Ghosts"
Paul McDonald and Nikki Reed, "All I've Ever Needed"
Reeve Carney, "New for You"
Christina Perri, "A Thousand Years (Part Two)"
Carter Burwell, "Plus Que Ma Prope Vie"
If anyone needs me I'll be in my room listening to Kerplunk on repeat, longing desperately for the '90s of my youth.
[via MTV]
Follow Jen Yamato on Twitter.
Follow Movieline on Twitter.