WATCH: 'Leaked' 'Evil Dead' Trailer Is Now Official! Compare It To Sam Raimi's Original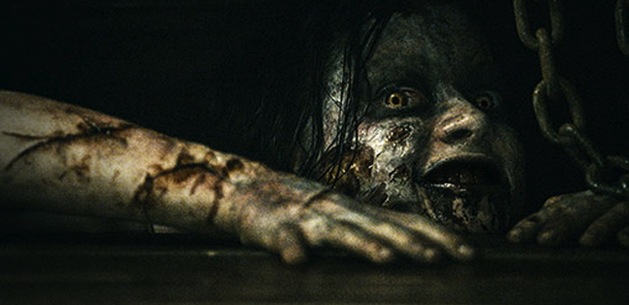 The Evil Dead  Red Band trailer has arrived, and it turns out to be the same one that had audiences at NY Comic-Con screaming in their seats (and, apparently, leaking it on the web). If you can stomach it, make sure to hang tight for the tongue-slicing scene at the end.  It will make you talk funny for hours. 
I've also posted the trailer to Sam Raimi's original 1981 film, The Evil Dead, so that you can compare elements of the first film with Uruguayan director Fede Alvarez's remake.  As with most contemporary reboots,  Alvarez's moves a lot faster. (He's even lost the 'The' in the title for a more streamlined effect.)  That said, the new trailer suggests that his Evil Dead will borrow some of Raimi's filmmaking flourishes, particularly the way in which the camera would take the perspective of the evil spirit that infects the unfortunate cabin dwellers.  Like the original, Alvarez's version also has scenes involving evil vines and dismemberment by power tools, including what looks like a chain saw.
Despite these similarities, when I interviewed Bruce Campbell at NY Comic-Con, he told me that the new Evil Dead, which opens early next year, will actually be quite different.  For one thing, Campbell — who starred in the original trilogy and is a producer of the remake — said Alvarez's version will be "dead serious" and won't feature an Ash, the character he played. "There are no similar characters whatsoever. And we wanted that. That was intentional," Campbell explained. "We didn't want anything compared to anything. We didn't want to put any burden on any actor to act like Ash or to imitate him."
Related Story: Read Movieline's interview with Bruce Campbell.
Read More at: http://movieline.com/2012/10/14/bruce-campbell-interview-evil-dead-remake-fede-alvarez-jane-levy-sam-raimi/#utm_source=copypaste&utm_campaign=referral
Follow Frank DiGiacomo on Twitter.
Follow Movieline on Twitter.