Elizabeth Taylor Reigns As Top Earning Dead Celebrity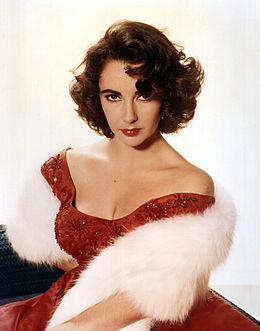 They're the one percent even in immortality. Elizabeth Taylor reigns as the biggest earner in Forbes Magazine's list of Top-Earning Celebrities, even out-ranking her BFF in life, Michael Jackson. But she may not stay atop the deceased heap for long since most of that bundle came from a record-breaking Christie's auction that cha-chinged $184 million, mostly from the star's fabled jewelry collection.

Still, Taylor is a tour-de-force beyond the grave, reaping cash from her ongoing fragrance White Diamonds, which took in a cool $75 million in 2011. Taylor was a shrewd business-woman in life, negotiating a 10% stake in all of her films post-Cleopatra. That film incidentally was the most expensive at its time, with a $44 million production budget back in the early '60s (ouch) and Liz was one of the highest paid stars of the time.
But, minus the estate sale, the self-styled King of Pop may edge out his celebrity idol in the years to come. Michael Jackson's estate owns a huge stake in Sony's ATV catalog, which includes artists like The Beatles, Taylor Swift and Lady Gaga. The estate even earns cash from the Cirque Du Soleil show The Immortal Tour. The total amounted to $90 million, far out-ranking the ever-present Elvis Presley who took in $55 million.
Peanuts creator Charles Schulz placed fourth with $37 million. They're the ninth most lucrative entertainment franchise, according to Forbes, grossing $2 billion a year globally in retail. Schulz's dollar prospects are looking even brighter in the future with the recent announcement that a new Peanuts movie is in the works, courtesy of Fox's animated division, Blue Sky. That film is set for 2015.
And reggae superstar Bob Marley ranked fifth with $17 million last year. His holdings include a Marley beverage company, which sells Marley's Mellow Mood, marketed as a relaxation drink and a House of Marley set of headphones.
Others in the list are John Lennon ($12 million), Marilyn Monroe ($10 million), Albert Einstein ($10 million), Dr. Seuss creator Theodor Geisel ($9 million), Steve McQueen ($8 million), Bettie Page ($8 million), song writer Richard Rogers ($6 million).
[Source: Forbes]