'Breaking Dawn,' Action Pic? Behind The Scenes Vid Reveals 'Twilight' Stunt Work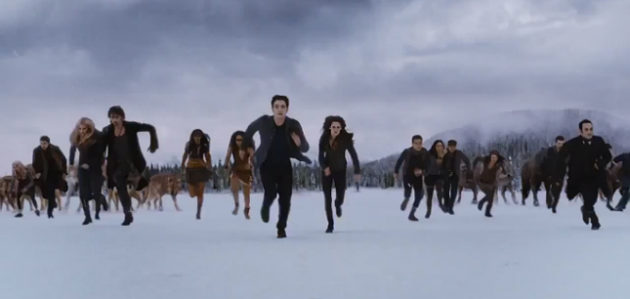 Those out there who might dismiss the final Twilight pic Breaking Dawn Part 2 as just another vampire movie sequel heavy on Bella Swan's moony-eyed sighs and Edward Cullen's sparkly undead chest, consider: This new behind-the-scenes featurette peels back the curtain to reveal the massive sets, wire work, and action set pieces Bill Condon wrangled for the highly anticipated franchise-ender — starting with Kristen Stewart going Over The Top with a little arm-wrestling action!

I wish the Twilight Saga took Bella on an arm-wrestling tour of bars and truck stops with her newfound vampire strength, but alas. Stewart does, however, get to leap over giant chasms (okay, that's probably her stunt double but still) and do a bit of tandem vampire-fu with Robert Pattinson.
The clip also features cast mates explaining further for the uninitiated the idea of half-vamp baby Renesmee and why Michael Sheen and his Italo-vampires want her dead. And did I mention the sprawling new cast of international bloodsuckers? Lee Pace, people! Between Breaking Dawn and Lincoln (both out November 16) you've got two chances to see the underrated Pace grace the big screen.
Follow Jen Yamato on Twitter.
Follow Movieline on Twitter.