Kylie Minogue Sets Her Sensation Aside For Holy Motors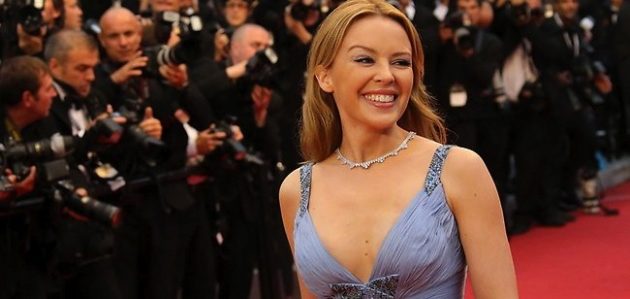 Pop superstar Kylie Minogue may be an unlikely figure to appear as a tragic figure in French filmmaker Leos Carax's surreal Holy Motors, but given the numerous twists and turns the Australian-born singer has had, first gaining notoriety in what now seems like a former life as a soap star, the ever adventurous performer is always seeking out the new. So, Holy Motors is a perfect pit-stop. Describing this sensually unnerving and stimulating adventure is simply boarding a fast train to hopelessness, it's a day-long ride through Carax's imagination. But to give some sense of the film, which had its U.S. debut at the recent New York Film Festival and is slowly heading into theatrical release this week, Minogue is one character in a series of "appointments" for Monsieur Oscar. In her moment, she gets to do what legions of her fans love - she sings. But even for a crooning vet like Kylie, even that was a new experience.

"Leos is enigmatic and in your face. A very different energy that I liked and was intrigued by," Minogue told ML during the recent New York Film Festival. "I was looking to do acting, but I wasn't knocking on doors. It was kind of unexpected."
Minogue met the publicity-averse (or is he?) filmmaker through French filmmaker-actress Claire Denis. A pop sensation whose stardom has been compared to Madonna on the world stage, she has taken a comparatively less high profile role in her adulthood acting gigs. She played the green fairy in Moulin Rouge in 2000 and in Anthony D'Souza's Blue in 2009. And, she will next be seen in indie filmmaker Bradley Rust Gray's Jack and Diane .
"I was living in NYC and trying to stay a year in Williamsburg living anonymously," she said. "I worked on Bradley's film which was great. I've been drawn to independent films. It's a great yin to the yang of other things that I do. They satisfy a different part of my being, so I feel a bit more whole by this experience. My role [in Holy Motors] small, but in my life it's turned out to be a big thing and it's expanding."
In Holy Motors, Monsieur Oscar (Denis Lavant) journeys from one role to the next, accompanied by Céline (Edith Scob), the woman driving an American-style limo that transports him through Paris. He's a "conscientious assassin," going from one place to the next going from dizzying highs to humbling lows in pursuit of a mysterious driving force and the women and spirits of past lives.
Minogue's turn with Monsieur Oscar actually takes the pop-star full circle so to speak. While she said she wanted to take on the project "stripping Kylie away" - meaning, letting go of her normally over-the-top celebrity, Carax had her do something she is best known for - singing. And of course she did it with gusto, though even Carax took her to a sphere that she found unusual, which is quite a feat for someone who regularly packs in huge stadiums of fans for her live shows.
"He had me sing the part live, not pre-recorded in a studio," said Minogue. "The big challenge with that was performing it so it sounded nice, but not perform it. I've never done that before. Normally, you have to do certain things with your face when you're singing, but I couldn't here. It was a new place to go."
Minogue showed up on set minus the trappings of her fame, which was just fine enough for her. She said she wanted to be a canvas for Carax, though she appreciated his emotional support.
"Usually it's like a big plane going over cities and everything is big and flashing around and then I had to touch down to land and be in Leos' world. I was in a holding pattern for those days I [shot the film]. Of course I was sick like a dog. I had to go to that place as a character. As a director, he only said what I needed to hear and he's very precise with his words and is gentle. But he held my hand through it."
The film's release has also given Minogue a chance to not be at the center of adulation. And though she's never too far from her notoriety, Holy Motor' premiere in Cannes and subsequent debuts at NYFF allowed her to step back and take it all in outside the center, which she described as a learning experience.
"This French thing was very surreal for me," she said. "I was pretty shell-shocked when I saw it at the premiere in Cannes. There was a bit of polite applause at first, then it grew and grew and there was a standing ovation. All that energy was hitting Leos. I got some of the over-spill, but that experience taught me something. It is usually going toward me and you can be blindsided when you have people telling you everything's amazing. And you wonder, 'was it?' And that experience enlightened me to step away and be involved in it, but see it differently. I said to myself, 'don't forget that moment.'"
But Minogue's stint on the movie sidelines may not be a long one. Aside from the roll out of Holy Motors and the pending Jack and Diane, she does not rule out a full-on studio experience down the road.
"I would work in a Hollywood movie. They're different beasts but I'm not anything if I'm not malleable. I'm open to opportunity - definitely. Going forward, I'm happy to slow the [direction] I've been going and bring in some different energy and experiences. We'll see, this has opened a lot of doors for me."