High and Low: Ex-Collaborators Anderson and Baumbach Sow Solo Quirk in 'Moonrise Kingdom' & 'Madagascar 3'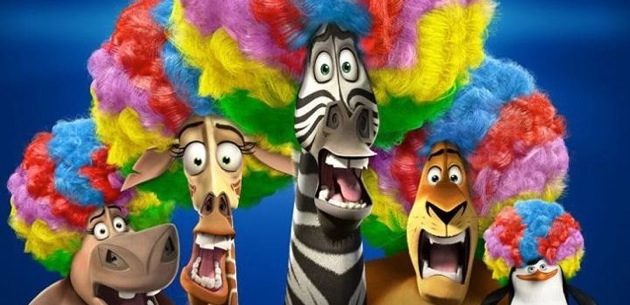 Onetime collaborators Wes Anderson and Noah Baumbach each have a new DVD release this week. The two last worked together on Anderson's gorgeous and witty Fantastic Mr. Fox, and their idiosyncratic proclivities and points of view are very much on display at both ends of the High/Low spectrum. (As a bonus, both films feature Frances McDormand!)
HIGH: Moonrise Kingdom ($29.98 DVD; $34.98 Blu-Ray/DVD/Digital Combo)
Who's Responsible: Written by Wes Anderson and Roman Coppola; directed by Anderson; starring Bill Murray, Frances McDormand, Bruce Willis, Edward Norton, Tilda Swinton and Bob Balaban
What's It All About: Misunderstood lovers Suzy (Kara Hayward) and Sam (Jared Gilman) run away together. The fact that they're both 12 years old and living on an island off the coast of New England doesn't stand in the way of their plans. Their romantic escapade sets off a flurry of activity among the local adults, including Suzy's parents (Murray, McDormand), Sam's scoutmaster (Norton), the local law officer (Willis) and Social Services (Swinton), whom everyone calls "Social Services."
Why It's Schmancy: After turning off sections of his fanbase with the excessively twee The Life Aquatic with Steve Zissou and The Darjeeling Limited, Anderson has definitely got his groove back with the one-two punch of Mr. Fox and this eccentrically charming love story. Our youthful protagonists take themselves and their relationship utterly seriously, and Anderson affords them the same dignity. From its tracking-shot close-ups to a memorable sequence of the lovers shimmying to ye-ye music, Moonrise Kingdom feels like Godardian amour fou filtered through Anderson's visual (pop-up book) and emotional (Peanuts-esque melancholy) sensibilities.
Why You Should Own It: Given that Anderson's first five features eventually got lovingly curated editions from The Criterion Collection, there's a temptation not to shell out for the original, studio-produced release. Still, this DVD features a few extras to tide you over, including tours of the locations (narrated by Balaban) and the sets (conducted by Murray), as well as a featurette.
LOW: Madagascar 3: Europe's Most Wanted (Dreamworks Home Entertainment; $29.98 DVD, $39.99 2-Disc Blu-Ray/DVD + Rainbow Wig, $54.99 3-Disc Blu-Ray 3D/Blu-Ray/DVD)
Who's Responsible: Written by Eric Darnell and Noah Baumbach, directed by Darnell, Tom McGrath and Conrad Vernon; featuring the voices of Ben Stiller, Chris Rock, Jada Pinkett Smith, David Schwimmer, Frances McDormand, Jessica Chastain, Martin Short, Bryan Cranston and Sasha Baron Cohen
What's It All About: After spending two movies escaping from a Manhattan zoo, lion Alex (Stiller), zebra Marty (Rock), hippo Gloria (Pinkett Smith) and giraffe Melman (Schwimmer) decide the Big Apple wasn't so bad after all and turn tail (literally) for home. The journey involves run-ins with Monaco's most notorious animal control officer (McDormand) and a crumbling touring circus.
Why It's Fun: The first two entries in this franchise felt generic and unfunny, but the addition of Baumbach to the creative team gives the enterprise a much-needed shot in the haunch. This time, we get plenty of laughs (of both the verbal and slapstick variety) and thrills for kids and their parents. There's also a psychedelic trapeze number that's the most mind-melting sequence in a kiddie cartoon since the "Pink Elephants on Parade" number in Dumbo — especially if your home theater is outfitted for 3D.
Why You Should Own It: All the versions feature commentary from the three directors, and the Blu-Ray throws in an additional commentary track, pop-up trivia and a round-table discussion with the four stars of the Madagascar series.
Alonso Duralde has written about film for The Wrap, Salon and MSNBC.com. He also co-hosts the Linoleum Knife podcast and regularly appears on  What The Flick?! (The Young Turks Network).  He is a senior programmer for the Outfest Film Festival in Los Angeles and a pre-screener for the Sundance Film Festival. He also the author of two books: Have Yourself A Movie Little Christmas (Limelight Editions) and 101 Must-See Movies for Gay Men (Advocate Books).
Follow Alonso Duralde on Twitter.
Follow Movieline on Twitter.