REVIEW: Madagascar 3: Europe's Most Wanted Coasts on Goofy Charm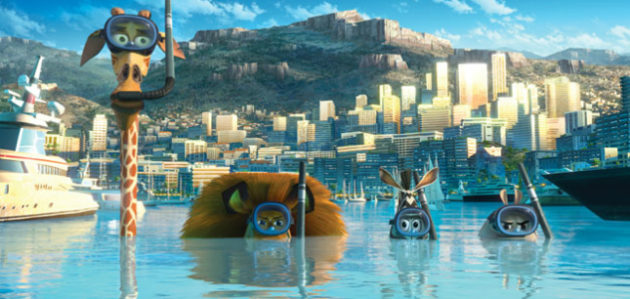 Both of the trailers that preceded the screening I attended of Madagascar 3: Europe's Most Wanted featured burps as punchlines. Like, each one built to and then peaked with a bug-eyed animated creature's belch. After the first burp the little kids a few rows ahead of me erupted in jubilant, little kid laughter; the second was met with bored silence. If even your short-limbed target audience doesn't like being played for a chump, how to keep them entertained across two previews, much less two sequels?
The Madagascar franchise offers a unique response to this problem in that it consistently borrows enough from the modern children's movie playbook to get your guard up (or your eyes glazed), and yet it just as consistently manages to surprise with a charm and wit all its own.
Which is to say: Nobody burps in Europe's Most Wanted. I felt pretty sure nobody would, having been drawn into the first movie, which I watched on a babysitting assignment back in 2005, despite myself. That movie had the shamelessly Shrek-derivative zebra voiced by Chris Rock and the reliance on pop-dance montages to fill the gaps, but there was also sharp writing, an actual storyline, and clean, distinctive computer animation. For its third installment, in addition to going 3-D, DreamWorks added Conrad Vernon (Shrek 2, Monsters Vs. Aliens) to the franchise's directing team of Eric Darnell and Tom McGrath, and Noah Baumbach, of all cats, was brought in to co-write the script with Darnell. The result is almost exactly as good as it needs to be – no better and no worse. Where the norm is grimly assembled factory line products, that counts as a success.
Structured more explicitly as a serial than most franchises, Europe's Most Wanted begins right where the second film ended – with Alex the congenial lion (Ben Stiller) and his posse of Central Park zoo refugees re-installed in Africa, and the penguins and chimps headed to Monte Carlo with a windfall of loot. Alex soon becomes wistful about New York, and he and Marty the zebra (Rock), Melman the giraffe (David Schwimmer), Gloria the hippo (Jada Pinkett Smith), and the trio of lemurs (Sacha Baron Cohen, Andy Richter, and Cedric the Entertainer) plan to head to follow the others and re-group for a voyage "home."
The first twenty minutes or so don't bode well: Action and kids' movies that lead with an elaborate chase tend to feel a little desperate, even if, as in this case, they serve to introduce an unkillable gendarme deliciously voiced by Frances McDormand. Captain Chantal DuBois is a nightmarish villain, from her rocket boobs and Gallic sneer to her ghoulishly sharp nose. Once Alex and Co. attract the wrong kind of attention in a Monte Carlo casino, DuBois and her crew (whom she rallies at one point, quite hilariously, with a quivering rendition of "Non, Je Ne Regrette Rien") are on their scent for the rest of the film.
Once the enervating pace lets up a little, Europe's Most Wanted settles into the engaging silliness that keeps 'em coming back for more. In a clutch, Alex and Co. take refuge on a circus train, where they try to pass as performing animals. Vitaly the Siberian tiger (Bryan Cranston playing the proud, damaged Russian), Gia the cheetah (Jessica Chastain in a silky, indeterminately European accent), and Stefano the Italian sea lion (the genius Martin Short with a touch of Topo Gigio) lead a circus stuck licking old wounds and adhering to old ways. Circumstance leads Alex to take over the circus, with the hope that it might take him back to New York, and there ensues a solid stretch of involving character work (Vitaly, devastated by an old injury, needs to regain confidence; Stefano and Marty bond over finding their bliss) and an intriguing (if slightly outdated) storyline that challenges the group to re-inject passion into the same old song and dance and pits the liberating, American way of doing things against constraining European tradition.
But it's the details that wind up sustaining adults through these things: The sequence in which Cohen's King Julien strikes up a romance with a massive bear in a tutu is so silly it hurts, and all along there are little gifts – throwaway lines involving a borscht dependence, fleeting sight gags, and consistently inspired line readings – to keep you feeling goofy. Were it to calm down even half a notch, the moments in Europe's Most Wanted that threaten to make it more than a fun way to suck back a soda might have room to bust a few moves of their own.
Follow Michelle Orange on Twitter.
Follow Movieline on Twitter.