Press-Shy Wachowski Siblings Go Public For 'Cloud Atlas' And LGBT Cause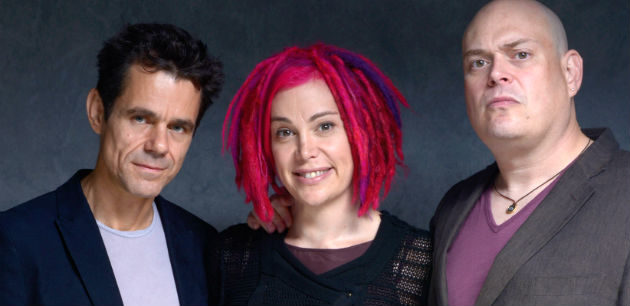 Despite their enormous successes, the Wachowskis are known for being among the more press-shy filmmakers in Hollywood. But for their latest opus, the sprawling, soul-stirring Cloud Atlas (co-directed with Tom Tykwer), the duo have blazed a trail talking up their ambitious passion project — partly, as Lana Wachowski explains, because of the film's deeply personal connection to her own recent transformation.

The film, adapted from David Mitchell's novel, tells six interconnected nested stories across the span of hundreds of years, following the same souls evolving through multiple lifetimes. The cast, including Tom Hanks, Halle Berry, Jim Sturgess, Jim Broadbent, Ben Whishaw, James D'Arcy, Hugh Grant, Hugo Weaving, and Doona Bae, play multiple parts often under make-up and prosthetics in the gender- and race-bending ensemble.
[GALLERY: First images from sci-fi opus Cloud Atlas]
Lana Wachowski, a bubbly and luminous presence on the Cloud Atlas press tour with her bright pink dreads and beaming smile, spoke of the privacy she and brother Andy fought for years to protect — and why it was important to trade that veil now, with the world watching.
"Anonymity enables you to inhabit civic space, and that way of being in the world is very important to us," said Lana over the weekend in Beverly Hills. "We like the access that anonymity gives you to the world. As soon as you give it up, you give up a part of your human experience, your humanity."
The decision to peel back the curtain for the first time in 13 years was a tough one, but co-director Tykwer's experience with press was encouraging and Lana's opportunity to raise awareness for and give voice to the LGBT experience compelled the Wachowskis to submit to interviews and appearances for their $100 million indie film (which incredibly enough given their past work on the game-changing Matrix series, is their most ambitious and challenging project to date).
"When I was a kid one of the reasons that I was depressed about my life and my situation was that there weren't people like me — there weren't transgendered people in Hollywood," Lana offered. "I didn't even know a writer that was transgendered. There was this feeling that because I was the way I was I would not be able to do something that I imagined that I wanted to do. It would be closed to me, it would be denied me just because of who I was."
"By being more public I, perhaps, am fulfilling a role in my own life in terms of a sort of Cloud Atlasian consequence, a past life and future life," she continued. "In a way, I am a future life for that younger part of me looking for someone like me, a role model like me. And if I can suggest to younger people or other LGBT people that it is possible to be in Hollywood and be trangender or is possible to be a writer and be transgender and that gives them hope or lets them shed fear about being who they are, then it's worth it to sit down with [journalists]."
Added Andy: "It's worth it for me to give up my anonymity as well for that young Lana out there as well. Solidarity to all of our LGBT brothers and sisters out there."
Cloud Atlas hits theaters October 26. Read more on the film here.
Follow Jen Yamato on Twitter.
Follow Movieline on Twitter.